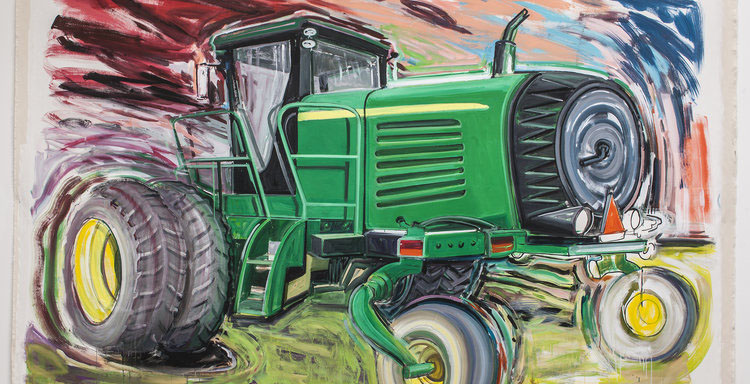 Movers and Shapers: Combines, Tractors, and Swathers by Karen Carson
Monday, May 11, 2015
Movers and Shapers: Combines, Tractors, and Swathers
presents large-scale paintings and related study drawings by mid-career Los Angeles artist Karen Carson depicting the machines that work behind the scenes to keep our supermarkets stocked and silos full.

Carson has lived part-time in rural Montana for the past decade and has explored in her work new ways of dealing with the grandeur of that natural setting. Known for her fearless experimentation, she has created various series that deal with some of the most powerful forces of nature, including forest fires, waterfalls, and windstorms. She turns here to these gigantic motorized masters of nature that have obviated much of the hands-on labor of farming. With virtuosic brushwork and vibrant color, she celebrates these hulk-like machines, relishing their lumbering bodies, wide stances, and geometric appendages. With a sly sense of humor, she humanizes their forms, sublimating their aggressive power so that they appear as friendly, almost sensual giants.

The exhibition is organized by the Oklahoma State University Museum of Art and curated by Michael Duncan, art critic and independent curator in Los Angeles, California.

The exhibition is on view June 1 - Aug. 29. All related programming below is free and open to the public.

Monday, June 1
Reception and Artist/Curator Q&A, 5 - 7 pm (Q&A begins at 6)

Saturday, June 13
Family Day, 11 am - 4 pm

Saturday, July 11
Family Day, 11 am - 4 pm

This exhibition is sponsored by P&K Equipment and the OSU Division of Agricultural Sciences and Natural Resources.