NSF awards $6 million to OSU-led collaboration to develop weather research UAVs
Friday, August 7, 2015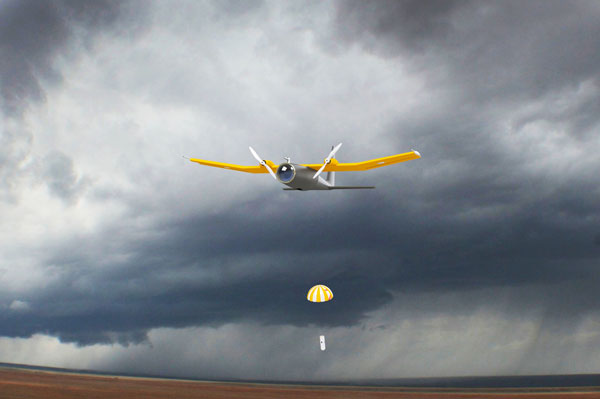 The National Science Foundation has awarded Oklahoma State University and three partner universities $6 million to collaboratively develop an integrated unmanned aircraft system (UAS) to improve weather forecasting through the study of atmospheric physics. The four-year grant will support the collaboration led by OSU and including the universities of Oklahoma, Nebraska and Kentucky.
The project's goal is the development of small, affordable unmanned systems, along with a knowledge base, to be used by government and university scientists and private companies to expand the understanding of atmospheric conditions and improve weather forecasting.
"Use of unmanned aircraft will eventually be a common tool in both meteorology and atmospheric physics, but there is a lot of research that needs to be accomplished first in technical, operational and regulatory areas for that to happen," said Jamey Jacob, the project's principal investigator and the Ray and Linda Booker Professor of Aerospace Engineering in OSU's College of Engineering, Architecture and Technology (CEAT).
"The NSF grant solidifies the OSU College of Engineering's impact on the UAV industry," said CEAT Dean Paul Tikalsky. "This is a transformative project that highlights our program's success and innovation in the field and one that will create significant change for the future of UAV use."
No other research using UAVs to study weather is in a position to advance the field as much as this partnership, said Daniel Fisher, professor and head of the OSU School of Mechanical and Aerospace Engineering.
The multi-disciplinary team of investigators at OSU includes Girish Chowdhary and Brian Elbing from the School of Mechanical and Aerospace Engineering, and Chris Crick, computer science, and Amy Frazier, geography, as well as other OSU researchers.
"Collaboration is critical to its success," Fisher said. "All of these institutions working together creates a natural synergy, especially with the University of Oklahoma's strength in meteorology and OSU's expertise in building integrated UAV platforms."
Each of the four universities brings its own unique expertise needed to make an ambitious project on this scale successful, Jacob said. OSU brings its strength in developing unmanned aircraft and autonomous control systems together with OU's strength in meteorology, Nebraska's understanding of atmospheric physics and Kentucky's development of sensor technologies and systems integration.
OU will support this project through its established strengths in meteorology and radar engineering. OU has considerable experience in boundary layer meteorology and the addition of small UAS will considerably impact future studies. Additionally, OU will begin to explore the challenging question of how small UAS can be integrated into studying the impacts of climate change on our society.
"I am very excited to be part of this project because it allows us to fundamentally demonstrate the value of using small UAS to monitor and investigate the lower atmosphere," said Phillip Chilson, professor of meteorology in the OU College of Atmospheric and Geographic Sciences and the Advanced Radar Research Center. "This research has the potential to be a real game changer for meteorology and weather forecasting."
Currently, meteorologists primarily rely on radar and ground-based instruments that are unable to collect necessary data in the atmosphere to build better forecasting models. Weather balloons provide information but are limited by how often they can be launched. Though scientists have used large UAVs, like the Predator, to study hurricanes, the cost is prohibitive for more widespread study of atmospheric conditions.
NSF awarded the grant through its Experimental Program to Stimulate Competitive Research (EPSCoR) program as part of a national priority to increase funding and workforce development in 12 key states, including Oklahoma, in science, technology, engineering and mathematics, or STEM fields.
Along with the four universities making up the core of the collaboration, the project also involves other universities such as the University of Colorado at Boulder and the Massachusetts Institute of Technology as well as government agencies including NASA, the National Oceanic and Atmospheric Administration, and the National Center for Atmospheric Science. Private companies are also providing expertise.
Calling the project CLOUD MAP, for Collaboration Leading Operational UAS Development for Meteorology and Atmospheric Physics, Jacob said the effort will likely mean the development of new technologies and the use of currently available systems, though it is too early to know what the UAS will look like. For more information, visit http://www.cloud-map.org.
PHOTOS: https://www.flickr.com/photos/ostatenews/sets/72157656516414628