Oklahoma State University mourns loss of civil rights pioneer Nancy Randolph Davis
Tuesday, March 24, 2015
Oklahoma State University joins others across the state in mourning the death of Nancy Randolph Davis, the first African American enrollee at the university. Davis died Monday at age 88.
"The Oklahoma State University family is truly saddened by the passing of one of our most revered pioneers, Nancy Randolph Davis," said OSU President Burns Hargis. "She believed strongly in the power of education and her courage and persistence paved the way for countless African American students. Mrs. Davis was an inspiration to people of all races. She will be missed."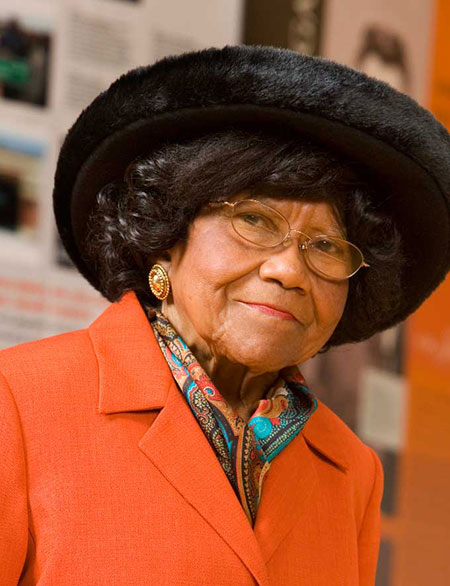 Davis graduated from Langston University in 1948 and was a high school teacher when she enrolled at OSU (then Oklahoma A&M) in 1949. She graduated in 1952 with a Master's degree in Home Economics (now known as Human Sciences).
According to Davis, she received encouragement to enroll at OSU from the U.S. Supreme Court's groundbreaking decision to allow Ada Lois Sipuel Fisher to enter the University of Oklahoma School of Law. She initially was required to sit outside the classroom in the hallway, but after making the second highest score on a test, her white classmates complained to the professor and she joined the other students in the classroom.
After earning her Master's, she taught home economics and child care at Star Spencer High School for 23 years. She retired from Oklahoma public education after 43 years of service.
OSU named Davis a "Distinguished Alumna" in 1999, and the university named one of its newest residence halls Davis Hall in 2001. OSU also offers three Nancy Randolph Davis Scholarships for students in honor of her efforts and commitment to education. OSU celebrates "Nancy Randolph Davis Day" during Black History Month in February.
Davis has received widespread recognition, as well as honors and awards from the state. In December 2008, the Oklahoma Human Rights Commission honored her with the Oklahoma Human Rights award for her dedication as an educational pioneer and human rights trailblazer. She received the 2009 College of Human Sciences Enhancing Human Lives Award and in 2013 she was inducted into the OSU Greek Hall of Fame. While a student at OSU Davis was a member of the Alpha Kappa Alpha Sorority, Inc.