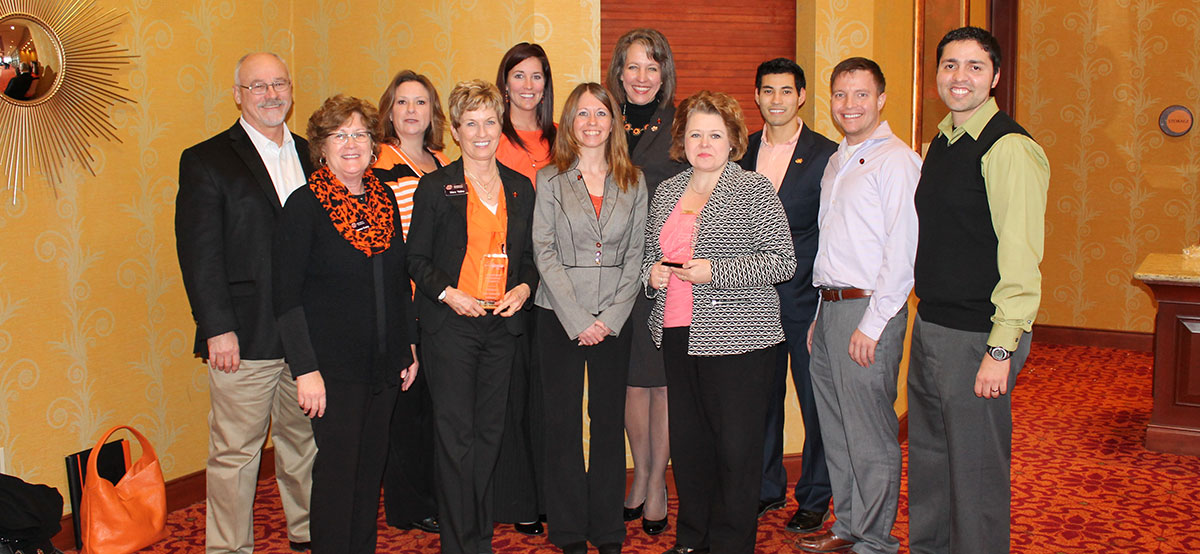 The Oklahoma State University system is living America's Healthiest Campus® while proudly receiving 35 Healthy Certifications through the Oklahoma State Department of Health. The OSU system and its partners have been honored in five categories including healthy businesses, healthy campuses, healthy early childhood centers, healthy restaurants and healthy congregation.
The Certified Healthy Oklahoma Program is a statewide certification that showcases organizations and communities committed to fostering environments that support healthy choices. To qualify, the organization must challenge Oklahomans to eat better, move more, and be tobacco free, as well as implement policies to create healthy environments throughout our state.
The Oklahoma State Department of Health recognized Oklahoma State University – Stillwater, Oklahoma State University – Tulsa, OSU Institute of Technology, Connors State College and Northeastern Oklahoma A&M College as Certified Healthy Campuses. OSU Stillwater has received the highest level "Excellence" award since the inception of the program in 2011.
"OSU is empowering its employees, students and community members to live a healthy lifestyle by implementing a culture of wellness throughout the entire university system," said Dr. Suzy Harrington, OSU's chief wellness officer. "As America's Healthiest Campus®, these latest certifications verify that we are on the right track and doing the right thing."
This year Oklahoma State University – Stillwater, Oklahoma State University Institute of Technology, and Connors State College not only received the "Excellence" level award as a Healthy Campus, but also as Healthy Businesses. This is the fourth straight year that OSU has been recognized as a Certified Healthy Campus and the second straight year that the university has won both the Certified Healthy Campus and the Certified Healthy Business awards. Connors State College in Warner and Northeastern Oklahoma A&M in Miami, are A&M system colleges that also earned dual awards. OSUIT in Okmulgee has received the dual honor since 2011.
The Certified Healthy Business award recognizes OSU's efforts in creating a better work environment for its employees, including the many resources available to take care of their health. Better health of employees means lower health care costs, less sick leave and more efficient, energized employees.
In addition to the dual certification honorees, Oklahoma Cooperative Extension Service county offices received 23 Certified Healthy Business awards leading change in communities across Oklahoma. "The 23 county extension offices recognized are the drivers in working to assist communities and schools to become certified, which also helps schools get funding," explained Harrington.
The OSU-OKC Child Development Lab School and the OSUIT Child Care Center were also both recognized this year along with the St. John University Parish and Catholic Student Center. This was the first year that childhood programs and congregations could be certified healthy.
Two on-campus dining options were selected as certified healthy restaurants for the first time. "We're proud to have both Which Wich and The Hard Wok earn this recognition," said Terry Baker, director of OSU Dining Services. "We've made major strides for several years to provide healthy alternatives and information sources to help our students make healthy choices and these restaurants are examples of that progress."
Representatives from OSU were honored for the certifications at an awards luncheon on Feb. 4. Attendees included employees from the Department of Wellness, the Chief Wellness Office, Food Services, Human Resources, and several county extension offices.
Story by Susan Occhipinti