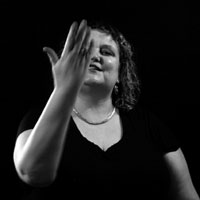 Oklahoma State University assistant professor of painting and drawing Liz Roth has been named a Fellow of the DaVinci Institute for 2015.
"The Department of Art, Graphic Design and Art History is delighted that associate professor Roth has been named one of five DaVinci Fellows for 2015," Dr. Rebecca Brienen, head of the art department at OSU, says. "This recognition is well-deserved and we feel fortunate to have someone with her ability and imagination on our faculty."
Roth will be recognized at a banquet on March 27 at the Oklahoma History Center in Oklahoma City. She will receive a DaVinci Medal and a monetary award at the banquet.
A member of the OSU faculty since 2005, Roth has garnered national and international acclaim for her work. Previous awards include the Wisconsin Arts Board Individual Artist Fellowship, Ludwig Vogelstein Foundation grant for painting and the Oklahoma Visual Arts Coalition Grant Art 365.
She has been an artist-in-residence at Grand Canyon National Park, the Jentel Artist Foundation (Wyoming), the Awagami Paper Factory (Japan), the Kamiyama Artists in Residence program (Japan), the Wrangel Mountain Center (Alaska), and the Vermont Studio Center.
Her works have been acquired by many national and international collections, including the Walker Museum of Art, the Museu del Joguet in Spain, the Museum of Awa Japanese Paper, and the KAIR Contemporary Art Collection.