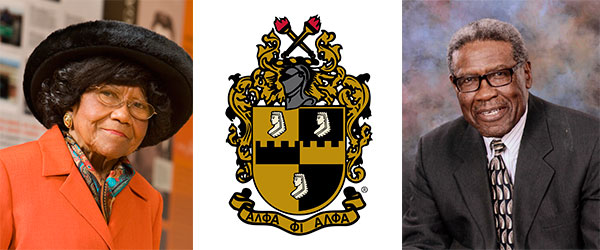 The inaugural event of the Oklahoma State University Diversity Hall of Fame will honor the late Nancy Randolph Davis, founding members of the local chapter of Alpha Phi Alpha Fraternity, Inc., and Dr. Howard Shipp Jr. on Thursday, Oct. 22, at the ConocoPhillips OSU Alumni Center. The inductions are a feature of the annual African American Student Association Homecoming Gala. The event is sold out, however, it will be broadcast live online at 6 p.m. on ostate.tv.
"The event will highlight the transformative legacy of these individuals and offer a grateful institutional acknowledgment of their services to the OSU Community," said Dr. Jason F. Kirksey, vice president and chief diversity officer for the OSU Division of Institutional Diversity. "The inaugural class of the OSU Diversity Hall of Fame will expand to five members with the induction of two additional OSU alumni in spring 2016. The inaugural class, as well as subsequent classes of inductees, will reflect the breadth of diversity at OSU."
Inductees on Thursday will include Nancy Randolph Davis, who was the first African American student to enroll at OSU in 1949, earning her master's degree in 1952. She is recognized as a pioneer and trailblazer in the field of education and OSU has named several scholarships as well as one of the university's newest residence halls in her honor.
The first historically black fraternity to colonize at OSU in 1958, the Epsilon Epsilon Chapter of Alpha Phi Alpha Fraternity Incorporated, paved the way for other organizations at OSU and broadened campus opportunities for African American students. Four of the eleven founding members, along with the chapter's adviser, Dr. Henry Ponder, will be in attendance at Thursday's event.
Dr. Howard J. Shipp Jr. became the first African American counselor at OSU in 1971, and his work to improve the racial climate at the university led to the creation of the Office of Minority Programs and Services in 1985. His leadership also expanded the Office of Multicultural Affairs in 1992 as well as its mission to focus on minority retention, recruitment and outreach. Shipp retired in 2005 after 34 years of service to OSU.
The event will begin with a reception from 5:30-6:30 p.m. The dinner and awards ceremony is scheduled for 6:30-8:30 p.m.