OSU Trumpet Ensemble Wins Second-Straight National Competition
Tuesday, March 24, 2015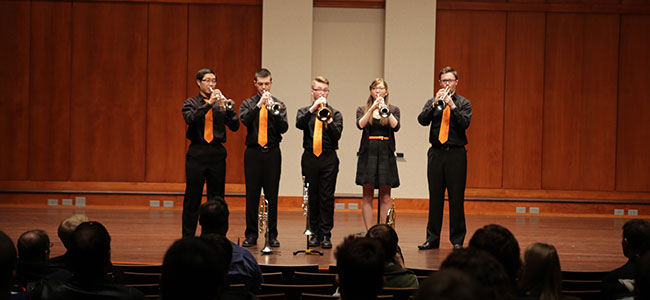 For the second consecutive year, the Oklahoma State University Small Trumpet Ensemble is national champions, beating 63 other programs at the 2015 National Trumpet Competition. OSU also placed third in the Large Trumpet Ensemble Division.
"Winning the National Trumpet Competition for the second consecutive year is truly inspiring and a testament to the students' talent and strong work ethic," OSU assistant professor of trumpet Ryan Gardner said. "I am so proud of these students, who played with such heart and musicality."
In total, 15 OSU students competed, including six in various solo competitions. Making up the Small Ensemble were: Cleon Chai (Moore, music education), Nick Doutrich (Moore, music performance), Benjamin Miles (Stillwater, music performance), Tyler Murray (Checotah, music education), and Natalie Upton (Prosper, Texas, music education and business management).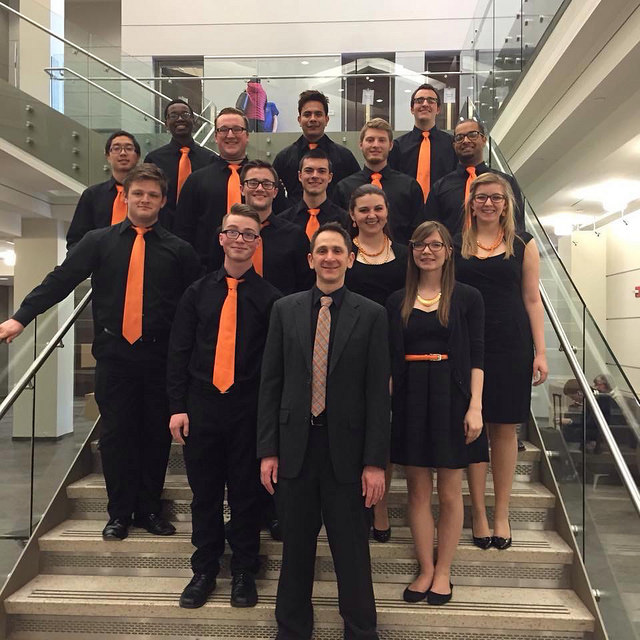 The Large Ensemble included Lorenzo Diaz (Duncan, Master's student in applied music), Grant Harper (Fort Smith, Ark., music performance), Braden Hatch (Lawton, music education), Kevin Kamau (Mustang, music education), Alex Miller (Fort Worth, music education), Chris Reeder (Cape Girardeau, Mo., music education), Randall Self (Tulsa, Master's student in music pedagogy and performance), Malia Sherwood (Owasso, music education) and Bryson Tuttle (Jenks, music education).
"The music department is thriving and continuing to build upon its outstanding national reputation thanks to our wonderful students and music faculty at OSU," Gardner said.
The competition was held March 19-21 at Messiah College in Mechanicsburg, Pennsylvania.
Results
Getzen Trumpet Small Trumpet Ensemble Division
First Place- Oklahoma State University
Second Place- Southern Methodist University
Third Place- Curtis Institute of Music

Maller Trumpet Large Trumpet Ensemble Division
First Place- Baylor University
Second Place- University of Miami
Third Place- Oklahoma State University