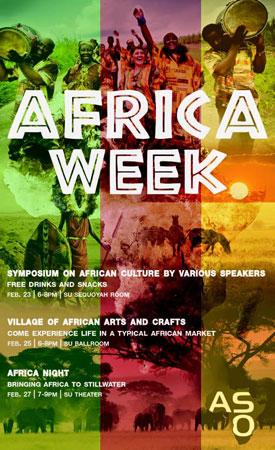 The African Student Organization is bringing a sample of the diverse cultures of Africa to Oklahoma State University this week during Africa Week, which is designed to raise awareness about Africa and its people and cultures.
"I hope people learn about the African continent," said Taiwo Lasisi, member of the African Student Organization. " I believe there's a lot to learn about Africa: the geography, the lifestyles and the very diverse cultures even represented here at OSU."
There are many events planned, including the African market and the Symposium of Africa where experts will present a variety of topics.
Lasisi believes that the interactive African market is essential to Africa week because many parts of Africa can only be translated to others by actually experiencing that event.
"Our most interactive day will be February 25 at the Village of African Arts and Crafts," Lasisi says. "We will have a place where we will show people how to braid African hairstyles or even have their hair braided, a section that will teach people African styles of dance and even a place that will show people how bargaining happens at African markets."
There is also a chance to win a Danshiki, which is a colorful shirt, if people take a picture of the Africa Week a-frame on campus and post it on social media with the hashtag #ASOaframelove.
Events on February 23 and 25 are free. The final day, February 27 features "Africa Night! Bringing Africa to Stillwater," which costs $10 if tickets are bought in advance and $12 at the door.
To purchase tickets or for more information contact Alimamy Fornah at 404-409-4624 or visit representatives from the group every day this week on the second floor of the union outside of the Campus Life offices. Tickets will be $12 at the door. Those interested in purchasing tickets can pay with cash or bursar.
More information can also be found about each of the below events on the university calendar at calendar.okstate.edu.
Schedule of Events:
Tuesday, February 23: Symposium on African Culture 280 Student Union 6-8 p.m.
Thursday, February 25: Village of African Arts and Crafts Student Union Ballroom 6-8 p.m.
Saturday, February 27: Africa Night! Bringing Africa to Stillwater Student Union Theatre 7-9 p.m.
Story by Alex Marianos