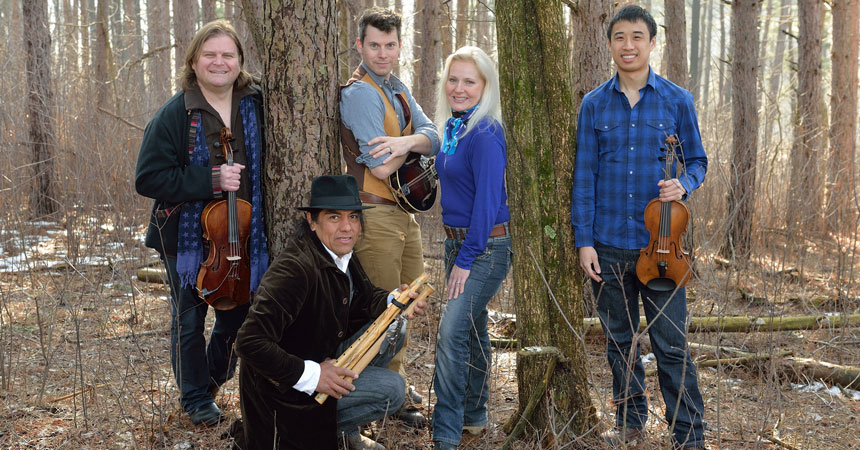 Audience members will be immersed in a flow of music that evokes timeless Native American traditions through contemporary music artistry at Oklahoma State University Allied Arts' upcoming season finale, ETHEL and Robert Mirabal: A Community at the River. The eloquent sound of the quartet ETHEL, accompanied by GRAMMY Award-winning Native American flute player Robert Mirabal, will take the Seretean Center Concert Hall stage on April 8 at 8 p.m.
Continuing a deeply successful six-year collaboration inspired by ceremonies dedicated to the sun, ETHEL and Robert Mirabal, present their next evolution of the cross-cultural concert experience. This year the inspiration derives from the water as the embodiment of spirit, and its essential role in life on earth. Robert Mirabal is Native America's most dynamic, best-selling artists. As a musician, writer, story-teller, painter, poet and playwright, Mirabal brings each performance to life with the help of ETHEL and the Native American traditions that arouse to his creativity.
"Mirabal's music is so rich and meditative," said Brandon Mitts, Arts, Culture and Entertainment manager. "The selection committee felt like there was a lot of cultural relevance to this specific performance because water is such a precious commodity in Oklahoma. Therefore, we hope Mirabal's collaboration with ETHEL will be inspirational as well as educational."
Tickets for the performance are $22 for adults and $10 for children 12 and under. Tickets can be purchased online at tickets.okstate.edu or by phone at 405-744-7509. Tickets will also be available at the Seretean Center Concert Hall the evening of the performance beginning at 6:30 p.m. Doors open at 7:30 p.m.
ETHEL and Robert Mirabal: A Community at the River is the final installment in the 2015-2016 OSU Allied Arts series. For decades the Allied Arts office has brought top-notch talent to the OSU campus. The Allied Arts office seeks to enrich the lives of students through the arts. Allied Arts hosts six performances during the year. For more information about Allied Arts and this performance, visit alliedarts.okstate.edu.
PHOTO: https://www.flickr.com/photos/ostatenews/albums/72157665729822660