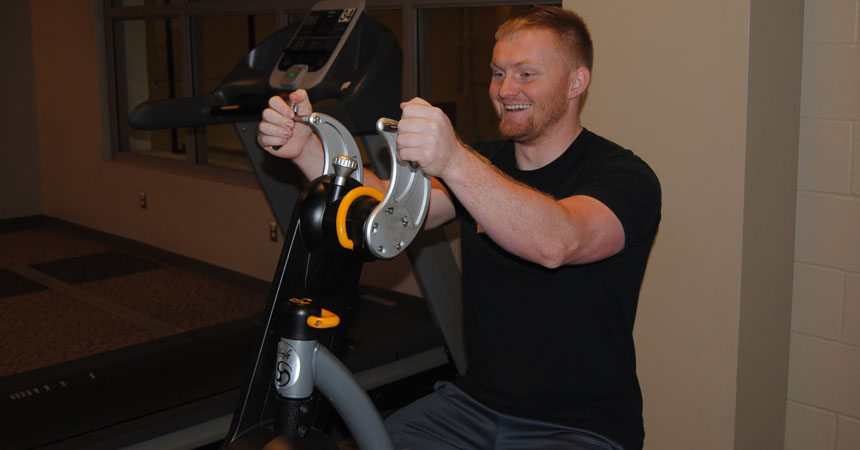 The Department of Wellness has installed two new pieces of ADA-compliant equipment in the Colvin Recreation Center.
Jason Vlastaras, assistant director of fitness, believes the new equipment exemplifies the Department of Wellness' mission to provide everyone a chance to discover wellness.
"Our mission is to help everyone discover wellness and make sure there are no barriers for them to do so," Vlastaras said. "That's why adaptability and inclusivity are so important. We're trying to reach as many demographics as possible to ensure wellness is accessible to everyone."
The equipment was purchased by a grant given to the Department of Wellness by the Christopher Reeve Foundation. The grant was awarded based on the department's continued emphasis on inclusive fitness at OSU.
Previous to the two new items, the Colvin Recreation Center already had six pieces of ADA-compliant equipment. But the Department of Wellness' efforts for inclusive fitness go beyond purchasing new equipment. The department has developed the iFit program, which trains personal trainers and group fitness instructors on how to work with people with disabilities.
"The program is an in-house certification that we put a lot of our personal trainers and instructors through," Vlastaras said. "So now we have staff that are experienced and able to work with a wide variety of clients."
Inclusive fitness is being pushed to the forefront for campus recreation centers and wellness departments across the nation. Vlastaras believes that the new equipment and current programs will allow OSU to remain at the front of that effort.
"I believe our program is unique in that we haven't seen anything like iFit materialize on other campuses yet," Vlastaras said. "Not only do we have the equipment in place, but we also have programming in place to compliment the equipment. I think that's unique to what we're trying to do here."
With certified trainers and proper equipment in place, the Department of Wellness can continue to develop what inclusive fitness looks like at OSU.
"Now that we have the equipment to work with, we're going to push the programming side of inclusive fitness. Getting the word out about these certified and experienced professionals to work with that population so we can engage more and more participants."
If participants with disabilities would like more information about the equipment or the iFit program, contact Jason Vlastaras at jason.vlastaras@okstate.edu.
Story by Catherine Wilson
PHOTOS: https://www.flickr.com/photos/ostatenews/albums/72157667038327200