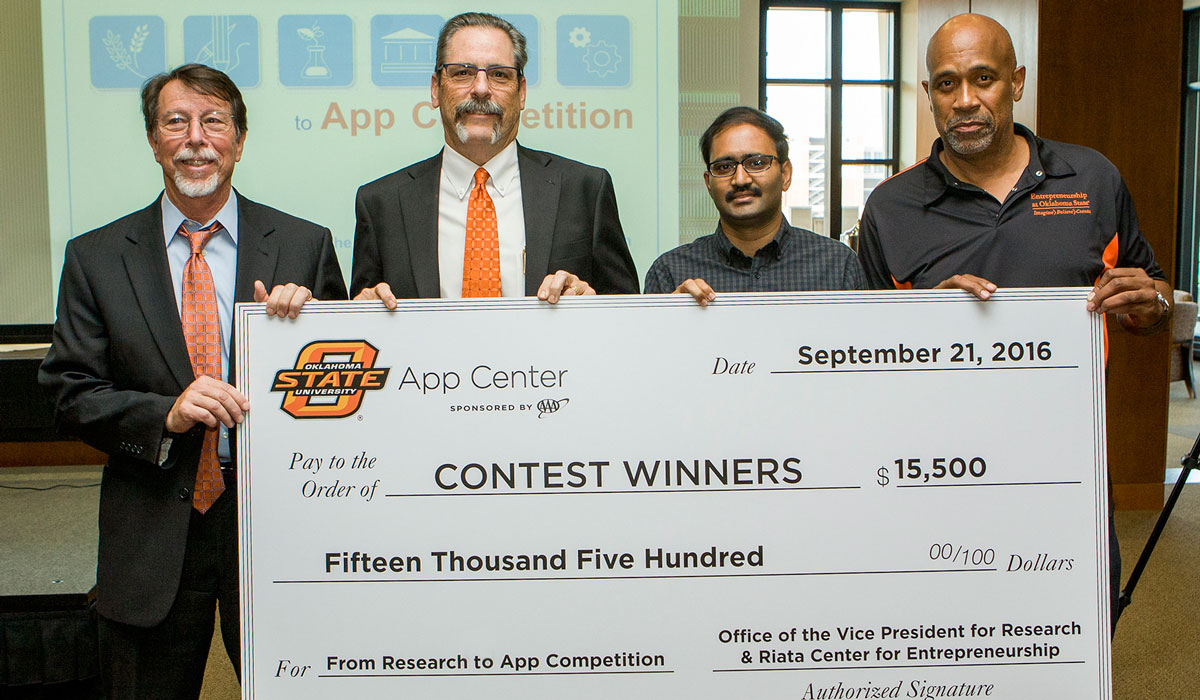 The OSU App Center welcomes the Office of the Vice President for Research and the Riata Center for Entrepreneurship as co-sponsors of the 5th Annual App Competition. The contest offers Oklahoma State University students, faculty and staff a chance at $15,500 in prize money to generate concepts for mobile applications, and pitch the ideas to judges based on the contest theme.
The contest's title, "From Research to App Competition," reflects the importance of research at OSU and calls for ideas which will use scientific and scholarly knowledge to solve a significant problem for the user via a mobile app.
"This year's competition focuses on bringing the fruits of research to the public via mobile apps," said Jai Rajendran, manager of the OSU App Center. "We are looking for a diverse range of ideas from all scientific disciplines, including agriculture, arts & sciences, business, education, engineering, health science, human science, veterinary sciences and social sciences."
From Research to App Competition is open to submissions from faculty, research groups, student researchers, post-doctorate fellows, and graduate students from all colleges across campus. Entrants must be a current employee or a student at OSU. The deadline for submitting app ideas is Nov. 2, 2016. No coding is necessary for participating in Phase I of the competition called Best App Idea.
In the competition, now open to entries, contestants submit a concept for a mobile app that fits the theme. Entrants with the top 10 ideas will present storyboards demonstrating their ideas to a panel of judges in a pitch event. A first place winner and a runner-up will be picked following the storyboard pitches on Nov. 18. The winner receives $2,500 and the runner-up $1,000. Each of the top 10 entrants will receive $500. The person with the winning app idea will also receive help from the App Center to develop and commercialize their concept.
For more information, visit http://appcenter.okstate.edu/content/app-competition-2016. Learn more about the App Center at https://appcenter.okstate.edu/ .