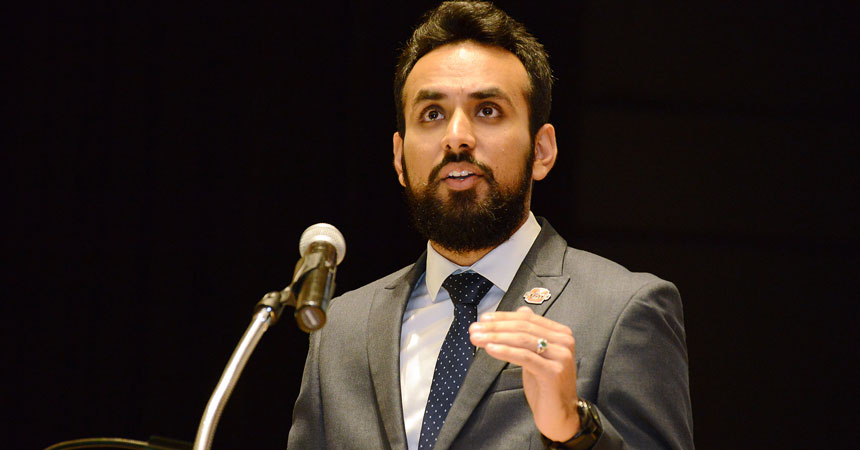 Finalists for the Oklahoma State University Graduate College Three Minute Presentation (3MP) compete Thursday in a challenge of presentation skills.
The college started the annual 3MP competition in 2015 for non-thesis master's, education specialist and graduate certificate students. Following preliminaries, 12 finalists will compete in the Three Minute Presentation finals Thursday at 3:30 pm in the Student Union Theater.
OSU is the first university to begin a presentation contest for non-thesis graduate students. The 3MP is modeled after the Three Minute Thesis (3MT®), which is also held at Oklahoma State. 3MT® is limited to graduate students in research-based degrees such as thesis master's or Ph.D.s.
3MP is designed to teach students the important skill of explaining to an audience outside their field of study how their graduate discipline is relevant to society. Dr. Ken Clinkenbeard, associate dean of the Graduate College and the 3MP organizer, notes that although OSU's graduate programs train students to speak with other experts in their field, many students aren't as comfortable speaking to a general audience about their work.
In the 3MP preliminary rounds, first, second and third place winners in each round received cash prizes of $200, $150 and $100, respectively. The top 12 finishers from the preliminaries were:
· Varsha Akkaloori – Business Analytics
· Sapna Bhoir – Business Analytics
· Logan Edmonds – Management Information Systems
· Rishanki Jain – Business Analytics
· Lindsay King – Animal Science
· Michael Kovarik – Management Information Systems
· Grant Lapke – International Agriculture
· Natalie Miller – Communication Sciences and Disorders
· Tanner Roark – International Agriculture
· Siddharth Suresh – Telecommunications Management
· Bijoy Thomas – Management Information Systems
· Sneha Varaganit – Management Information Systems
First, second and third place winners from the finals will receive cash prizes of $1,000, $750 and $500, respectively. The people's choice prizewinner, selected by a vote of the audience at the finals, will also receive $1,000.
Judges for the finals include:
· Stephanie Bice – Oklahoma State Senator
· Kimberly Carnley – Stillwater Assistant City Attorney
· Leslie Osborn – Oklahoma State Representative
· Galen Manning – Informatics Specialist, Integris Baptist Medical Center
· Jeanne Snyder – Vice President of Finance, Stillwater Designs and Audio
· Joe Weaver – Vice President for Administration and Finance, OSU
For more information, visit https://gradcollege.okstate.edu/3mp.
PHOTO: https://www.flickr.com/photos/ostatenews/30474801500/in/dateposted-public/