Khosronejad joins OSU as Farzaneh Family Scholar and Associate Director for Iranian and Persian Gulf studies
Thursday, February 4, 2016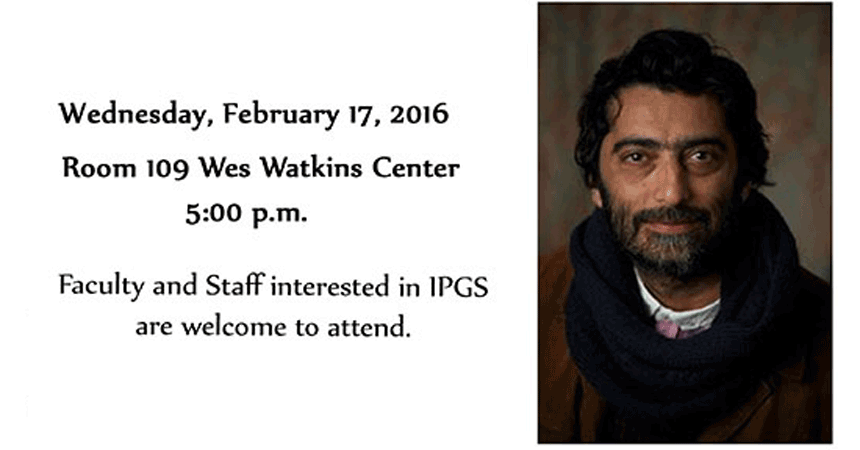 Pedram Khosronejad is the Farzaneh Family Scholar and Associate Director for Iranian and Persian Gulf studies in the School of International Studies at Oklahoma State University.
Under the direction of Khosronejad, Iranian and Persian Gulf studies will allow OSU faculty, staff and students an opportunity to explore the perspective of Iran and Persian Gulf from a variety of interdisciplinary researches. A speaker series will also feature speakers focusing on different aspects of the culture and region.
Khosronejad is of Iranian origin, and began his studies in Tehran before moving to France with a grant to pursue a Ph.D. in socio-cultural anthropology. His area of research is Iran, Persianate societies, and the Middle East more generally. In his doctoral fieldwork and also in subsequent fieldwork journeys, he has been mostly concerned with an ethnographic understanding of death and dying among a group of traditional pastoral nomads in the Southwest of Iran, called the Bakhtiari. Besides working on such topics, his research has been further motivated by an interest in visual piety, devotional artifacts, and religious material culture in the Middle East more broadly.
"With my background and being from of Iranian origin, it is great to be at Oklahoma State University and to be a part of the inaugural part of this program," Khosronejad said. "In September 2015 I was in Iran and had several meetings with Iranian Universities such as Chamran University of Khuzestan and University of Isfahan and we hope to visit them again soon to sign letters of understanding and cooperation for further academic exchanges."
He is the author of several volumes and founding editor of "The Anthropology of Persianate Societies Book series, SeanKingston, UK" and "Iranian Studies Book series, LitVerlag-Germany." He is also founder and chief editor of the journal of the Anthropology of the Contemporary Middle East and Central Eurasia (ACME).
The Iranian and Persian Gulf studies program is the result of a $1.6 million gift from brothers Jalal and Mohammad Farzaneh. The total impact of the gift will be more than $6 million after adding matching funds from Boone Pickens and the Oklahoma Legislature. The funding will support a faculty chair and four professorships focused in Iranian and Persian Gulf studies.
Upcoming speakers and events can be found at iso.okstate.edu or search Facebook for Iranian and Persian Gulf Studies at OSU.