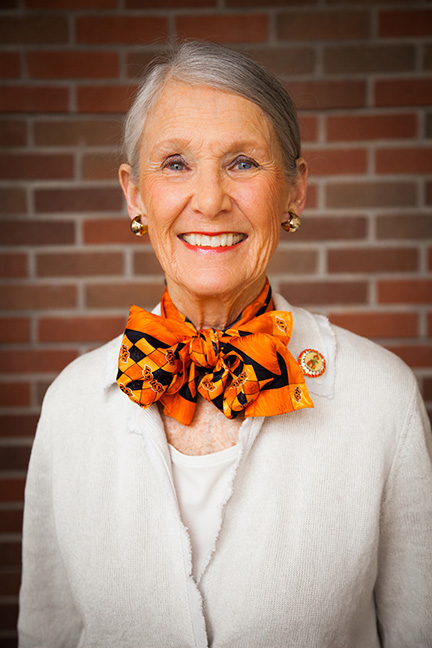 Women for Oklahoma State University reached new heights in virtually every way at its eighth annual Symposium last month, highlighted by a keynote speech from former First Lady Laura Bush. The organization awarded nine scholarships totaling $37,800, which were both records. Malinda Berry Fischer was recognized as the Philanthropist of the Year at the event that drew a record 600 attendees.
Women for OSU has sold every Symposium ticket each year, even as it has moved this marquee event to larger venues. This year, the Symposium was moved from its originally planned location of the Student Union Ballroom to Gallagher-Iba Arena due to increased demand.
Bush's speech included stories from before, during and after living in the White House. She also spoke about her philanthropic efforts, which focus on education, health care and human rights.
After lunch, Malinda Berry Fischer was honored for her philanthropy. The Stillwater native is named for her grandmother, Malinda Blanche Wise Diggs, who became the second woman to graduate from then-Oklahoma A&M College in 1898. Fischer followed in her footsteps, earning a 1960 education degree from OSU. She also graduated from the Harvard-Radcliffe Program in Business Administration in 1962.
She served on the OSU Foundation Board of Trustees from 1997-2007, including time as interim president and CEO (2004) and chairman of the board (2005). She also served on the Women for OSU Council from 2009-2011.
She has given back to her alma mater in many other ways as well. She established the Thomas E. Berry Professorship in Water Research and Management and the Wise-Diggs-Berry Endowed Arts Faculty Award for teaching excellence in the arts. She is also a life member of the OSU Alumni Association. She is currently chair of the OSU Art Advisory Council and serves on the Performing Arts Advisory Board and the Doel Reed Center for the Arts committee.
Among her numerous other philanthropic efforts are serving on the boards of the Oklahoma Medical Research Foundation and the Communities Foundation of Oklahoma.
She was recognized as an OSU Leadership Legacy in 2002 and a Distinguished Alumna in 2006. In 2012, she was inducted in the OSU Alumni Hall of Fame.
"For all of us who attended OSU, we are encouraged not to be afraid to explore new places and new ideas, and to be ever inquisitive, to seize opportunities with confidence that you can do it, to push and prepare yourself to embrace challenges," Fischer said. "As my father often told me and my brother, always do your lesson. Sometimes it's a very lonely journey. Receiving this honor did make me reflect on my life a little bit and like all of us here today, when we believe something strongly enough, we will find a way to do what we can and to give what we can."
Becky Steen, an alumnus and chair of Women for OSU, provided an update on the organization, including some impressive statistics. The group has awarded $144,350 in scholarships to 39 students during its eight-year history. It has hosted more than 2,500 women at its various events. The 48 current members of the organization's Council have given more than $123.3 million to countless areas at OSU. The combined giving of everyone who attended the Symposium exceeds $1.38 billion to support OSU.
Gov. Mary Fallin also spoke, providing an update on the state and highlighting her pride in being a Cowgirl. Ann Hargis, wife of OSU President Burns Hargis, brought greetings from the university.
Roxanne Pollard, chair of the Women for OSU Awards and Recognition Team, introduced Fischer as well as the nine scholarship recipients.
"We received a total of 200 scholarship applicants this year, more than four times our previous record," Pollard said. "Their stories are uplifting and inspiring. Choosing the winners from such a stellar pool is challenging, but these eight young ladies and one young man are extremely deserving."
Seven recipients were named Women for OSU scholars: Taylor Brown, a hotel and restaurant administration sophomore from Oklahoma City; Austyn Iven, a sports media junior from Stillwater; Jacquelyn Lane, a chemical engineering junior from Beulah, Colorado; Savannah Martin, a microbiology freshman from Duncan; Sarah Sauer, a nutritional sciences/pre-dental science senior from Highland Village, Texas; Ricki Schroeder, an agribusiness and agricultural leadership senior from Kremlin; and Audrey Woods, a mental health counseling master's student from Dallas, Texas.
In addition, Emma Murray was honored as the Sheryl Benbrook Women for OSU Student Scholar. Murray is a creative writing/poetry master's student from Council Bluffs, Iowa. The other award was the Wirt June Newman Memorial Scholarship, which salutes public or government service. It was presented to Alexandria Mullins, a clinical psychology doctoral candidate from Haworth, Oklahoma.
The master of ceremonies was alumnus Jocelyn Lockwood, a reporter at NBC 5 in Dallas, Texas. She closed the event by announcing that next year's Symposium, scheduled for April 27, will feature journalist Joan Lunden as keynote speaker.
Women for OSU is a diverse group of visionary women who share a passion for inspiring leadership and financial support to OSU. Women for OSU envisions a culture of giving and service that acknowledges the significant impact women have at OSU and inspires others to positively shape the future of the university through philanthropy and engagement.
For more information, visit OSUgiving.com/women.
PHOTOS: https://www.flickr.com/photos/ostatenews/albums/72157668226856345