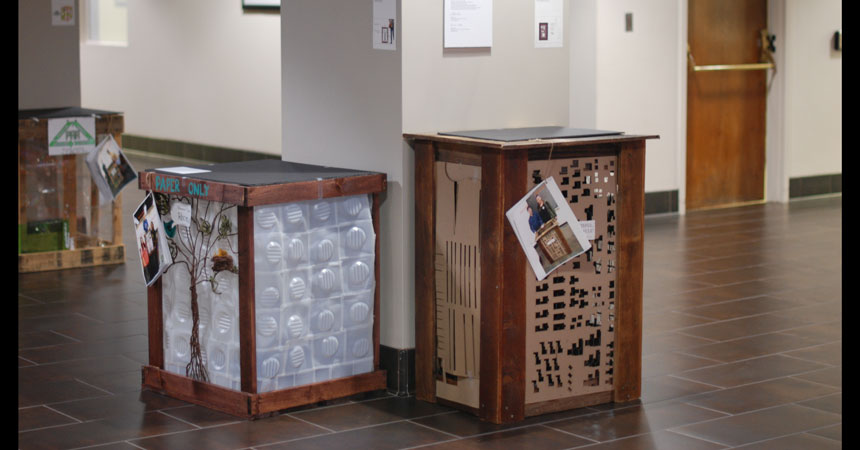 In a new exhibit, dubbed "Reclamation to Re-creation," the Office of Arts, Culture and Entertainment at Oklahoma State University is showcasing five unique recycling bins made of reclaimed materials. The exhibit will be on display in the basement of the OSU Student Union until Sept. 30.
Made of plastic bottles, milk jugs, wood pallets, chicken wire and other reclaimed materials, the recycling bins were created by landscape architecture students during the spring 2016 semester. The students were enrolled in Professor Qing Lana Luo's Sustainable Sites Construction II class, where they were encouraged to consider designers' responsibility to the Earth. The students designed, built and presented their creations to a panel of local materials management experts, including Dave Brown, OSU landscape services coordinator; Jeff Sweeden, facilities support services manager; and Chad Tucker, facilities support services supervisor.
"By being required to use only recycled materials, the students' resourcefulness and creativity was definitely tested," Brown said. "I thought they really rose to this challenge and came up with some pretty clever solutions for their recycled recycle bins."
Each recycling bin in the exhibit has a distinctive design and its own title as well as the designer's photo and design brochure. Viewers are encouraged to check out all of these items while reviewing the recycling bin exhibit and learn how participating landscape architects have taken real actions to make the world more environmentally, economically and socially-sustainable with creative solutions.
"While all recycling bins in this exhibition were created with reclaimed materials, it demonstrates that materials can have more than one life before their disposal into landfills," said Ilda Hershey, Sustainable Stillwater Leadership Team director.
The Office of Arts, Culture and Entertainment is excited to partner in this exhibition to show viewers the great benefits to giving used materials a new life, including reductions in waste, pollution and costs, as well as conservation of valuable energy and natural resources.
Formed in 2015, the Office of Arts, Culture and Entertainment's purpose is to foster deep, meaningful connections to the campus through collaboration with stakeholders across the university spectrum and in the community. Its mission is to continuously build support for the arts, culture and entertainment through enhanced community and campus involvement in art education and appreciation. For more information about ACE, visit ace.okstate.edu.
PHOTOS: https://www.flickr.com/photos/ostatenews/albums/72157672753607751