Oklahoma State appoints New Chief Wellness Officer
Wednesday, September 7, 2016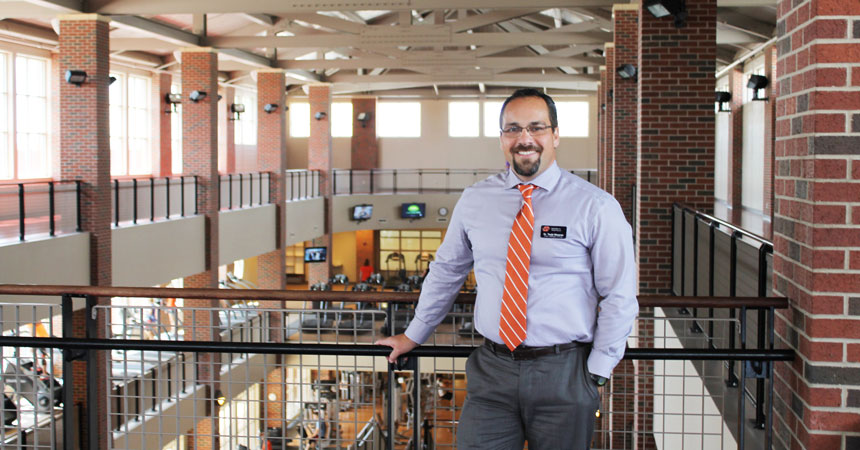 Oklahoma State University has named Todd Misener as Chief Wellness Officer.
"We are excited to welcome Dr. Misener and his family to our Cowboy family," said Dr. Lee Bird, vice president of student affairs. "Todd brings the right combination of vision, research and wellness experience to continue our efforts to make OSU America's Healthiest Campus."
Misener joins OSU from Western Kentucky University where he implemented growth of campus health and fitness programs from 1998 to 2016. Prior to his work at Western Kentucky, he helped with the campus health and fitness program at the University of Florida.
As the Chief Wellness Officer, Misener will oversee on-campus wellness efforts as well as advise OSU-A&M system-wide wellness initiatives.
Misener has been busy meeting students and staff from across the OSU system, learning more about the campus wellness culture. He hopes to build a data driven strategy that ensures further growth of wellness programs.
"My vision for the program is evolving as I learn about how all the interdependent parts of campus work together," said Misener. "I can say that my vision will be one that is deeply rooted in data, and will be one that strives to be inclusive and bold in continuing our journey as 'America's Healthiest Campus'."
Misener has more than 18 years of experience working in recreation, fitness and wellness promotion in higher education. Misener earned a Bachelor of Science in physical education from the University of Saskatchewan, a Master's in Public Health from Western Kentucky University, and PhD in Health Promotion from the University of Louisville. He has held many certifications in fitness including ACSM's Health & Fitness Instructor, and NSCA's Certified Strength & Conditioning Specialist, and is currently a certified health education specialist through the National Commission for Health Education Credentialing Inc..
Misener has presented at several national conferences on topics ranging from research and assessment methods, to health and wellness promotion strategies on college campuses. He has served on the National Intramural and Recreational Associations research and assessment committee for four years, including two as chairman.
In addition to his career, Misener enjoys sports and coaching youth sports when he can. He is married with three children.
Story by Cassidy Williams
PHOTO: https://www.flickr.com/photos/ostatenews/albums/72157672486042641