Oklahoma State University adds Welcome Plaza
Thursday, October 27, 2016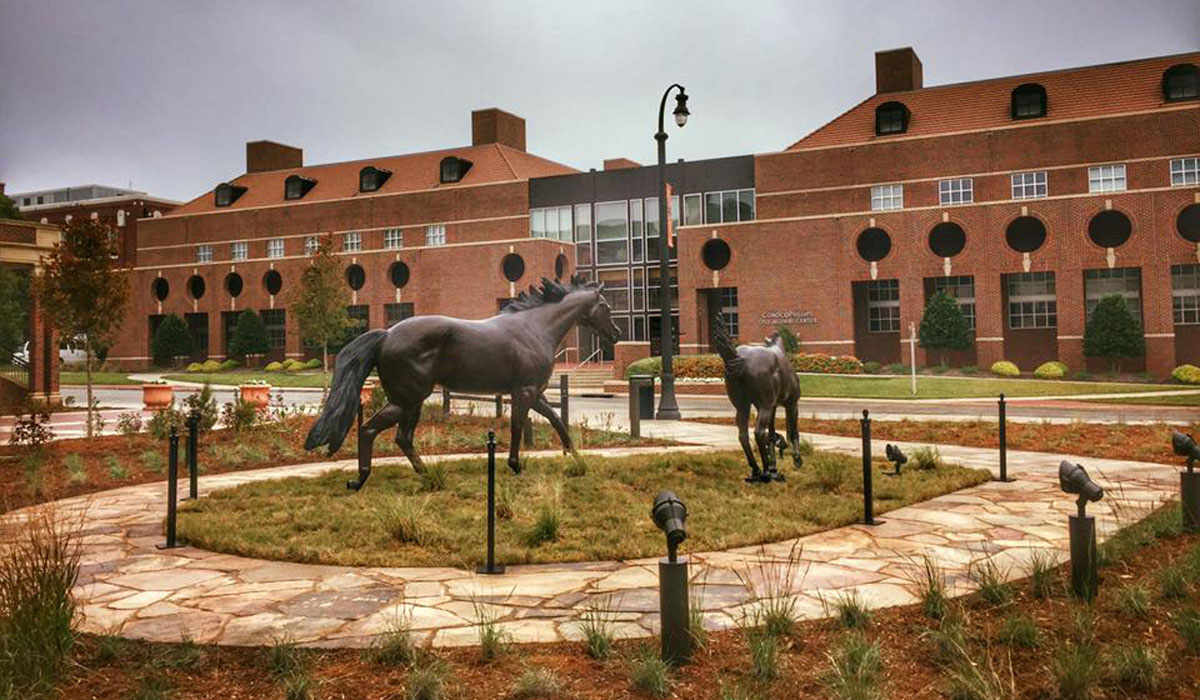 Oklahoma State University's Stillwater campus now features a Welcome Plaza designed to represent and exemplify some of OSU's best qualities: family, inclusiveness and strong work ethic, to name a few. University officials dedicate the gateway outside of the southeast corner of the Student Union last month.
The plaza is an inviting garden area, landscaped to provide shade and an outdoor living space. At its center is an impressive statue of a galloping mare and her foal, created 1.25-times larger than reality and cast in bronze. Arbor columns are inscribed with Cowboy ethics and the alma mater. A bronze sculpture of a saddle sitting atop a fence is also featured.
"It can be intimidating coming onto campus," said Kyle Wray, OSU's vice president for enrollment management and marketing. "This helps start a conversation about how students will find a place here at OSU. What we do here at OSU is make people feel at home and make people feel wanted."
Steve Dobbs, landscape services manager for facilities and management, has led the charge for campus beautification over the past several years. He pointed out the symbolism of the sculpture at the center of the plaza.
"The mare is really intended to represent alumni and staff and faculty while the foal is meant to represent the eager freshmen ready to run out and change the world," said Dobbs, who gives the credit of the concept to OSU Facilities Management Landscape Designer Dave Brown. "They're leaving home, so the mare can also represent parents and alumni keeping a watchful eye while the freshmen go and find their place at OSU."
The symbolism was an important element to artist Marrita Black when bringing the horses to life, first in clay and then a series of cast bronze.
"I thought about families and students and the anxiety students must have as they're running off to college," Black said. "But you've got to cut those strings. It's a big part of growing up."
The sculpture was named through an online contest. The winning entry, "Proud and Immortal," was based upon the lyrics of the OSU alma mater.
Chris Batchelder, president of the OSU Alumni Association, is thrilled that the Welcome Plaza is being added next to the ConocoPhillips OSU Alumni Center.
"We feel the Welcome Plaza only enhances the idea of the Cowboy family since our building welcomes both prospective students and returning alumni all year round," Batchelder said. "We want prospective students and families to view theAlumni Association as their connection for life to Oklahoma State. We serve Cowboys of all ages to connect them with each other and OSU."
Dobbs added, "There's not a day goes by that I don't talk to a student who has commented about the way campus looked and says it's made a difference. It looks like people have pride in their work here and they take care of it. It emulates that we're going to take care of our students. Parents feel that way, too: if you're going to take care of your campus, you're going to take care of everyone.
The collaborative project has been a couple years in the making. Securing private funds has been a part of the project from the beginning. Donors have helped make the Welcome Plaza a reality. They include the President's Fellows, Women for OSU Council, Claudia and Gary Humphreys, family of Galyn Pownell, friends of Lynn Pulliam, Joe Weaver and family, and Alice and Paul Richardson. More giving opportunities remain for those who wish to be involved.
For more information, visit http://osugiving.com/news/Welcome-Plaza