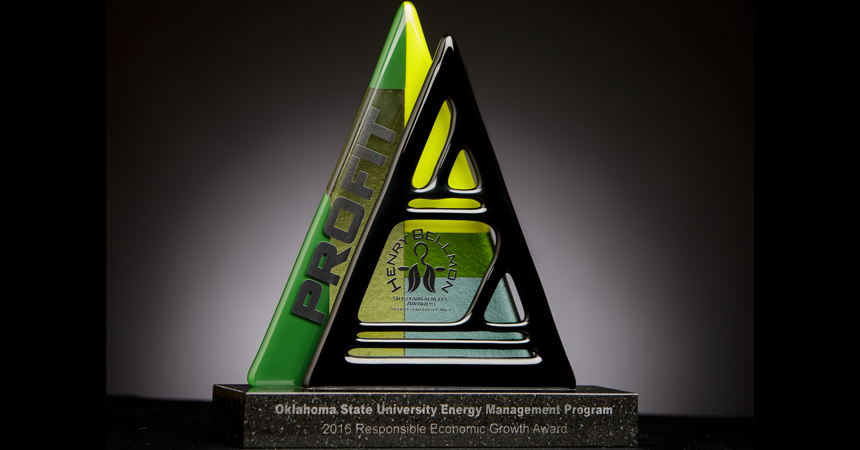 Oklahoma State University won the Responsible Economic Growth award at this year's Henry Bellmon Sustainability Awards gala in Tulsa for its clear, long-term strategy dedicated to maximizing profitability and sustainable growth in an increasingly complex and competitive market.
OSU's Energy Management Program has been measuring and tracking energy use with a customized program, known as ECAP, which allows the management and monitoring of individual meters at every OSU campus. This program also tracks reductions in utility costs, usage and carbon emissions.
Because of this program, Oklahoma State has reduced energy use on its campuses by 1.4 million BTUs since 2011, which is approximately $25 million in savings from January 2011 through May 2016.
Tammy Johnson, energy manager with the OSU Energy Management Program, said the university's energy management efforts are successful because of everyday actions across the OSU system.
"On a daily basis, people throughout OSU take small steps to save energy, and collectively, these actions make a big impact on how much energy the university consumes," Johnson said. "This award underscores the impact individual actions have on responsible use of resources."
Johnson said this award also recognizes the university's commitment to reducing energy consumption on all of its campuses.
"OSU leadership stresses the importance of energy conservation as part of the university's mission," Johnson said. "The president and vice presidents lead not just with words, but by actions and setting an example of solid participation."
For more information about the Energy Management Program, visit energy.okstate.edu.
Story by Katie Rosebrook