OSU among "Colleges that Pay You Back"
Wednesday, February 10, 2016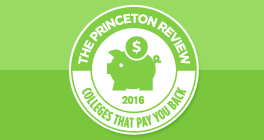 Oklahoma State University is one of only 66 public universities listed among 200 colleges in the U.S. that give students the "best bang for their tuition buck," according to a new book from Princeton Review titled "Colleges that Pay You Back: 2016 Edition."
The review, an education services company, chooses the schools based on a "return on investment" rating, which includes data on academics, cost, financial aid, graduation rates, student debt, and a survey of alumni salaries and job satisfaction.
"With a return on investment rating of 87, we highly recommend OSU, which is also outstanding for its academics, its affordability via comparatively low sticker prices and generous financial aid to students with need," said Robert Franek, the Princeton Review's senior VP, publisher and lead author of the book.
The publication's ROI rating propelled OSU among the top 200 of the 650 schools that were rated. The book estimates starting median salaries for OSU graduates with a bachelor's degree at $47,100.
The Princeton Review is also known for its school profiles and rankings in its annual books that include "The Best 380 Colleges," published in August, and "The Best 295 Business Schools" published in October, as well as the "Guide to Green Colleges," an annual free downloadable book published in April. For more information, go to http://www.princetonreview.com/college-rankings.