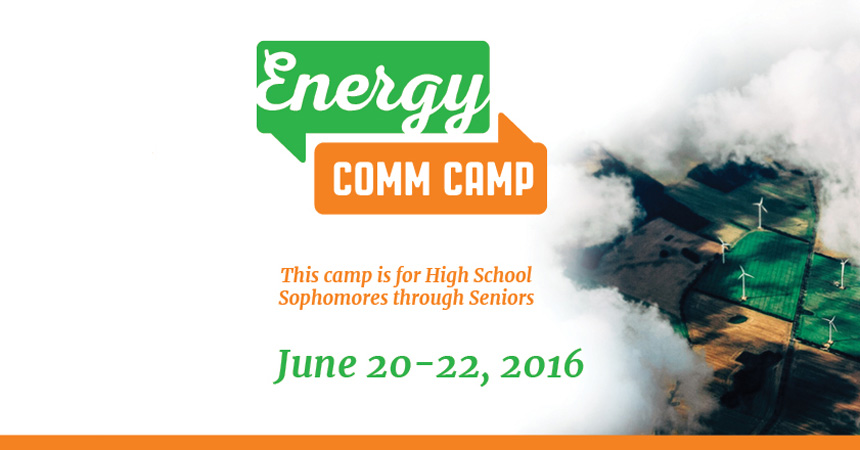 Oklahoma State University will help high school students this summer discover there's more to energy than its production and consumption.
The inaugural Energy Communications Camp provides a select group of students an opportunity to explore a career that combines the science of energy with the art of storytelling.
The three-day camp, June 20-22 on the OSU campus in Stillwater, is open to Oklahoma high school students who will be sophomores, juniors and seniors this fall.
It is presented by the OSU School of Media & Strategic Communications and coordinated by OSU College of Arts & Sciences Outreach. The camp is sponsored in part by Central Electric Cooperative.
Because of support from donors, sponsors and grants, the Energy Communications Camp is offered at no cost in order to reach students from all socio-economic backgrounds. Each student is asked to pay a $75 refundable deposit to reserve his or her space in the camp, which includes lodging, meals, instruction and a T-shirt. The camp includes two nights in a residence hall.
Participants will gain hands-on experience from OSU faculty and industry pros in science, energy and media.
"We're adding an extra 'M' to STEM," said Dr. Craig Freeman, executive director of OSU's School of Media & Strategic Communications. "The extra M is for media."
"Future stars in Science, Technology, Engineering and Mathematics must understand the media," he continued. "Future media professionals must understand STEM issues. This camp helps bridge the gap."
Students will gain a deeper understanding of energy, sustainability and the environment while producing media that helps everyone grasp how these concepts relate to each other. The campers will learn about careers in energy communications, including journalism and corporate communications.
"We develop great storytellers at the SMSC," Freeman said. "This camp helps future stars get an early start. Students get to work with our amazing faculty to hone their storytelling abilities.
"We're excited to welcome the best and brightest future communicators to Stillwater."
Dr. Bobbi Kay Lewis, the Arts & Sciences assistant dean for outreach, is a chief organizer of the camp.
"The ECC is an excellent example of a community outreach program," Lewis said. "The camp provides high school students access to educational opportunities that are similar to what they would experience as a student at OSU."
The online application can be accessed at http://ecc.okstate.edu/application. The deadline to apply is May 27. Previous experience or classes in media or STEM are not required, and all equipment will be supplied.
For more information, visit http://ecc.okstate.edu/ or call Christine Nichols at (405) 744-8459.
PHOTOS: https://www.flickr.com/photos/ostatenews/albums/72157668249779366