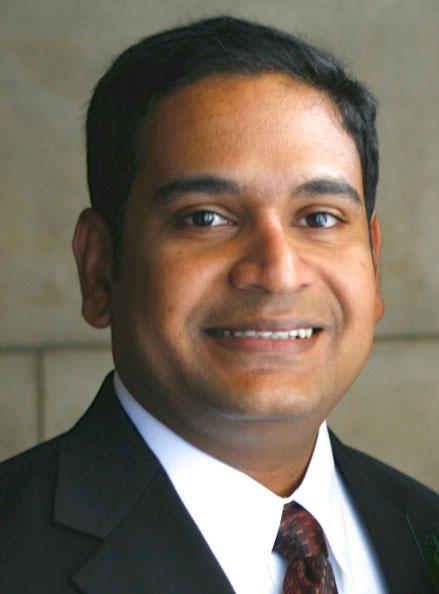 Oklahoma State University associate professor of integrative biology Punidan Jeyasingh was awarded a Fulbright U.S. Scholar grant for a research and scholarship project in Finland.
The five-month program, which runs from August through December, will be heavy on research but Jeyasingh will also teach a course in ecological stoichiometry at the University of Jyväskylä in the Finnish Lakeland.
The heart of the research component is to allow Jeyasingh to study the effect environmental changes have had on tiny organisms called Daphnia (commonly known as water fleas). He currently studies Daphnia collected from lakes in Minnesota and notes they are ideal subjects to understand such effects because they produce resting eggs that can be preserved in lake sediments for a long period. Jeyasingh and colleagues have been able to extract DNA from 1,700 year-old resting eggs, and even hatch eggs that were dormant for 700 years.
"It is a way not just to infer what has happened in the past but to directly observe, which is very powerful," Jeyasingh said.
The National Science Foundation has continuously funded Jeyasingh's research on the effect of eutrophication on Daphnia for over six years. The Fulbright grant allows him to take those methods to Finland, which has made dramatic environmental cleanup efforts since the 1970's, restoring the lakes nearly back to their original conditions. Thus, Jeyasingh expects to be able to measure the process full-circle.
"It is a cool natural experimental system that's been in place over decades," Jeyasingh said. "So the grant is to initiate work that will allow us to see how the genetics and physiology of Daphnia have changed over time, before and during eutrophication, and after restoration."
Jeyasingh hopes the collaborators he will work with in Finland will help him expand his own research into epidemiology, which will help make his work relevant to areas such as public health.
"It will kind of be like starting another Ph.D.," he said.
The program also has an important personal development component, so Jeyasingh's wife and two young children will join him in Finland.
"It is so refreshing how much Fulbright emphasizes that aspect," Jeyasingh said.
PHOTO: https://www.flickr.com/photos/ostatenews/albums/72157667741177065