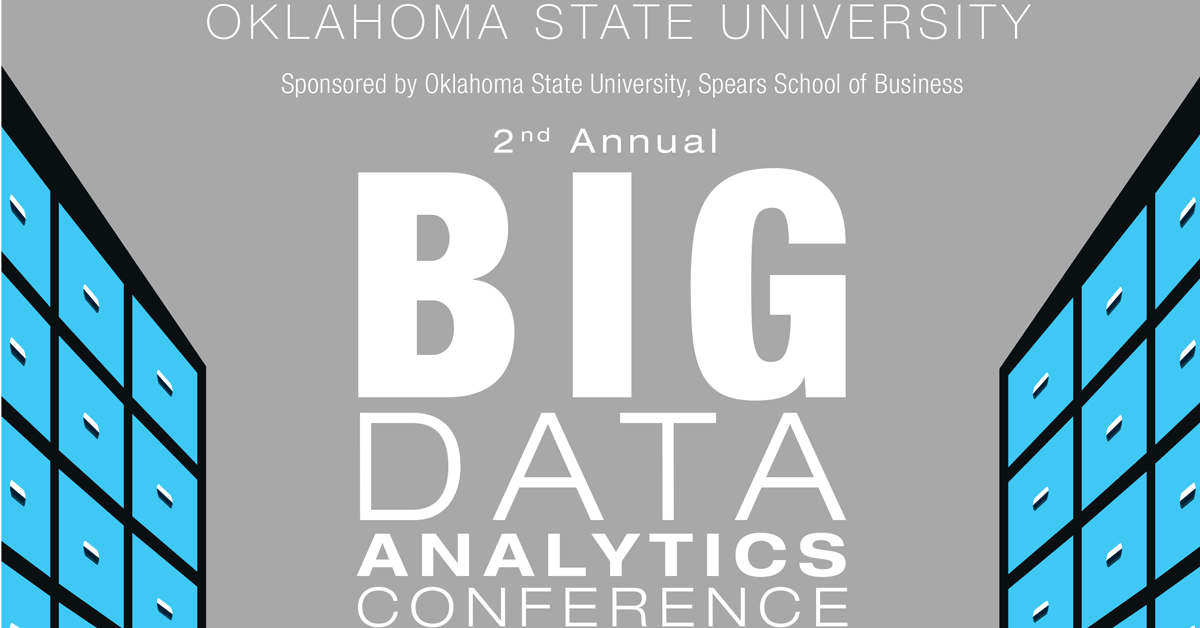 Oklahoma State University's second annual Big Data Analytics Conference will be Feb. 23. The conference will be from 9 a.m.-4:15 p.m. at the Renaissance Tulsa Hotel and Convention Center.
The conference will explore the management and strategic impact big data can have on a company or organization. The sessions during the conference will cover issues such as data capture, data management, data analysis and the strategic use of information for decision-making that drives success in business.
Ramesh Sharda, vice dean of the Watson Graduate School of Management, Watson/ConocoPhillips Chair, and Regents Professor of MSIS, and Goutam Chakraborty, Ralph A. and Peggy A. Brenneman Professor in the Department of Marketing in the Spears School of Business at OSU, are the faculty coordinators for the conference.
"This exciting conference is meant for all managers and professionals involved in or interested in analytics," Sharda said. "We have designed it to be relevant to all industries and as an opportunity to explore hot topics and how to leverage the use of analytics for the organization and your career."
This cross-industry conference brings speakers from industries throughout the region and nation to share their experience and expertise of maximizing the use of big data. Those attending will learn about leading practices in using analytics in energy, finance, medical service and retail.
Featured speakers for the conference include Michael Wooten, Data Center Operations Manager, Google, Inc., Pryor, Okla.; Udo Sglavo, Senior Director, Research and Development, SAS, Cary, N.C.; Sterling Price, Senior Director, Customer Analytics, Walmart, Bentonville, Ark.; Sherri Zink, Senior Vice President, Chief Data and Engagement Officer, BlueCross BlueShield of Tennessee, Chattanooga, Tenn., and Dave Schrader, Retired Director of Marketing and Strategy, Teradata Corp., Los Angeles.
A panel will also address the utilization of big data analytics, and will include Tom May, Director, Corporate Applications Technical Operations, ONEOK Inc., Tulsa; Sally Mannix, Executive Vice President, Chief Technology Officer, BOK Financial Corporation, Tulsa; Brad Cost, President, CEO, Owner, Infinedi, Tulsa, and Bryan Gross, Director of Business Intelligence, QuikTrip, Tulsa.
Registration for the Big Data Analytics Conference is $225 per person or $310 per person for the Big Data Analytics Conference and Tulsa Business Forum luncheon the same day featuring Ann Compton, former ABC News correspondent.
If eight or more people from the same company register, a multiple registration discount of $195 per person for the Big Data Analytics Conference or $280 per person for the Big Data Analytics Conference and Ann Compton Tulsa Business Forum is available.
American Fidelity Assurance Company is a gold sponsor of the Big Data Analytics Conference and silver sponsors are Bank of Oklahoma, ISN, Matrix Service Company, OSU Center for Health Sciences, and OSU Foundation. Sponsorships are still available for the conference, which includes registrations to the event.