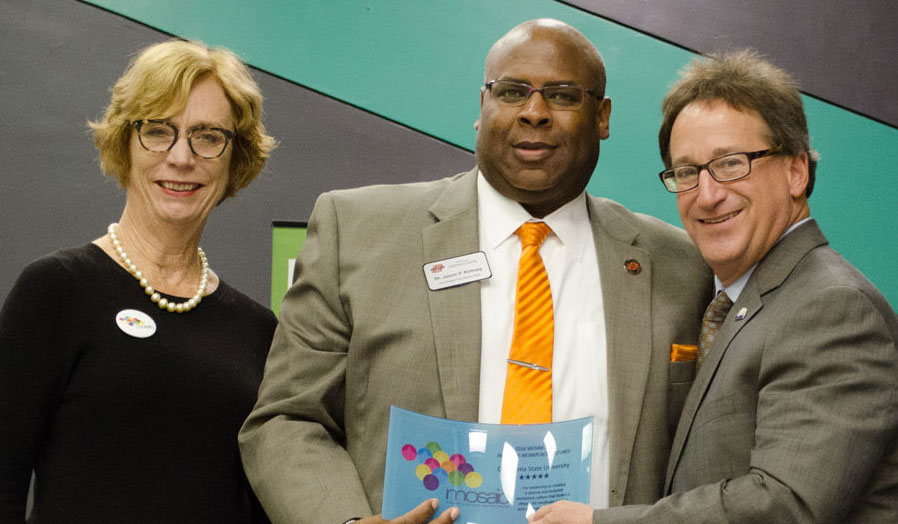 Oklahoma State University was recently recognized both locally and nationally for its commitment to diversity.
The Washington, D.C. based, nonprofit agency, Minority Access Inc., honored OSU at its 17th Annual National Role Models Conference, as a university committed to diversity for programs and activities that promote an environment of inclusion across the institution. Dr. Jovette Dew with the university's Division of Institutional Diversity attended the conference and accepted the award on behalf of OSU. Dew is director of diversity and academic support and the TRiO Department.
The university was recognized by Mosaic, the Tulsa Chamber of Commerce's diversity business council, for having a five-star inclusive workplace culture. Five is the highest tiered program ranking given area employers with robust diversity and inclusion strategies.
"While it is certainly an honor to continue receiving national and local recognition for the efforts we are making to enrich and fortify a culture of inclusion throughout the university system, we still have significant work to accomplish to further diversity and inclusion," said Dr. Jason F. Kirksey, vice president and chief diversity officer for the Division of Institutional Diversity at OSU.
Earlier this year, OSU was recognized nationally for the fifth consecutive year with the 2016 Higher Education Excellence in Diversity award from INSIGHT Into Diversity magazine. The university's commitment to achieving excellence in diversity and inclusion was featured in a spotlight article in the publication's October issue. Also this year, OSU received the Institutional Excellence Award for 2016 from the National Association of Diversity Officers in Higher Education.