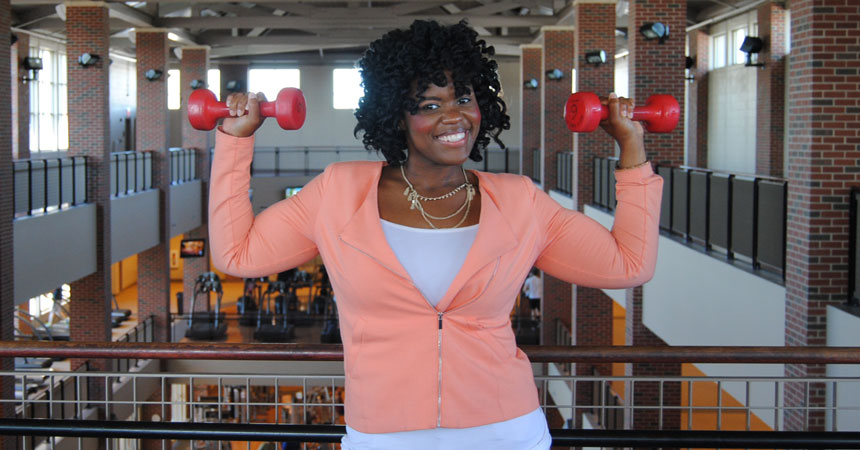 Moving to a new job often means a new chapter in your career. But for one Oklahoma State employee, it also became a new chapter in her wellness journey.
Bianca Boyd moved to OSU three years ago to accept her position as a grant coordinator with Student Support Service. As her first job after graduate school, Boyd was embarking on a new journey. But her unhealthy lifestyle was holding her back.
"I was 26 when I moved here, but little things like walking from the parking lot to my office or tying my shoe would just leave me out of breath," Boyd said. "I wanted an overall better sense of health. Graduate school was over, and moving here marked a new chapter for me. And I thought it would be great to start a new health journey as well."
Boyd began going to the Seretean Wellness Center before work to walk on a treadmill. Soon she began taking group fitness classes. But it wasn't until a friend invited her to try the Cowboy Challenge that her view of wellness began to change.
"Participating in the Cowboy Challenge really catapulted me into a new level of overall health," Boyd said. "I learned a lot from the Cowboy Challenge. I learned how to live a holistically healthy lifestyle. It's not about the scale or the measurements, it's about living a life that is fulfilling for you, whatever that may look like."
After the Cowboy Challenge, Boyd participated in R.O.S.U., the Department of Wellness' half and full marathon training program, something she never thought she would do.
"I was the person who would drive past someone running and just laugh to myself," Boyd said. "But now I wake up at 5:30 in the morning to run so I can train for my half-marathon, and I'm excited about it."
Boyd has lost over 100 pounds, but she admits the number still surprises her.
"It was never my intention to get here," Boyd said. "I didn't anticipate losing over 100 pounds. I really just wanted to be the best me, whatever that looked like. And I am so happy I had assistance to find what that is for me."
Moving away from her family and friends, Boyd didn't have a support system when she started her weight loss journey. But that changed as she began getting involved with the Department of Wellness.
"Weight loss can be lonely, but I found support in the Department of Wellness," Boyd said. I would get encouragement from them to get me through my slumps. I've realized if I don't go to personal training, I miss the people and the community. It's great accountability, and I've learned so much from them."
Boyd continues to utilize the programs at the Department of Wellness and is thankful for the new perspective the programs have given her on wellness.
"Wellness isn't just about losing weight," Boyd said. "That's one of the most important things I've learned through the Department of Wellness. It's about sleeping, eating well and enjoying yourself. As I've gotten healthier, I've gotten more positive and have a better outlook. This has been more than just losing weight for me. It's been a whole life transformation"
Story by Catherine Wilson
PHOTOS: https://www.flickr.com/photos/ostatenews/albums/72157667434152222