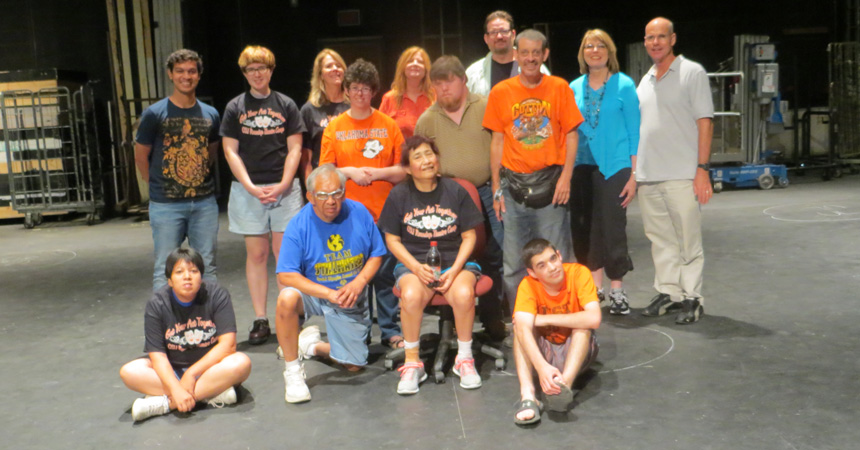 Oklahoma State University's Department of Theatre partnered with the Stillwater Public Library to lead a six-week camp focusing on theatre for adults with intellectual disabilities.
The Stillwater Public Library has been offering activities for adults with intellectual disabilities in its Adult Education program for some time, activities they've come to call "RoundUP." RoundUP provides educational and social activities to adults with intellectual disabilities in the Stillwater community. Dana Lawrence, whose son Michael is a frequent participant, was inspired to develop a camp for adults with intellectual disabilities focused primarily on theatre. Lawrence reached out to Dr. Andrew Kimbrough, head of the Department of Theatre, to gauge interest in developing a theatre camp. To her surprise, Dr. Kimbrough agreed, and the two started working with Stacy DeLano of the Stillwater Library to begin the RoundUP Theatre Camp.
"I've never done anything like this, but I have a nephew with special needs, and since getting to know him, I've been interested in helping in some way," Kimbrough said.
Lawrence was inspired to start a theatre camp after taking her son Michael to his first theatre performance nearly 12 years ago. Michael responded in a way Lawrence had never seen before; he was animated, smiling, dancing and mimicking the actors. After his continued positive response to other theatre plays, Lawrence began to research theatre for disabled people. With her personal knowledge of her son and her research information, Lawrence pursued her dream of a theatre camp.
"As the mom of a developmentally disabled adult, I became aware of the benefits of theatre for people with disabilities some years ago, and they are many," Lawrence said. "Theatre develops self-confidence and self-esteem, encourages social interaction, helps develop physical coordination and most importantly, is mentally stimulating and just plain fun."
The RoundUP Theatre Camp met twice a week for six weeks on the Oklahoma State University campus. Using the Department of Theatre's Davis Theatre in Gundersen Hall and the Vivia Locke Theatre in the Seretean Center, the campers practiced warm-up activities, theatre games and improvised scenes with volunteers, called "Stagehands."
"In just two weeks, I saw people I've known for years start to show confidence in expressing themselves in ways that their 'normal' mode does not accommodate," Lawrence said.
Kimbrough's approach was to utilize theatre training techniques for abled adults. His lessons aren't that different from those in an introductory acting class. His goal was to provide a solid introduction to performing for the campers.
"A few of our campers reside at Stillwater Group Homes, and their philosophy is to integrate the residents as much as possible in non-disabled life. Some campers have jobs and lead pretty independent lives. I thought aiming for full integration was a good way to get started," Kimbrough said.
A big emphasis has been on the campers coming up with their own stories to stage. They start with "3 P's" as prompts: inventing people in places with problems. The stagehands either take part in the performances or offer guidance. Stillwater High School special education and drama teacher, Lisa Larios, has been integral to the success of the camp, as well as full-time volunteers Todd Higgins, Aven Young, Shelly Henricks, and OSU graduate student Chethan Bhat, among others. Weck Tees t-shirt company of Glencoe provided the campers with free t-shirts to commemorate their time in the camp.
With the continued success of the RoundUP Theatre Camp, the Department of Theatre and the Stillwater Public Library hope to continue the program. The theatre activities will continue after the summer, and the camp will be renamed Roundup Theatre Company. Meetings will be held once a week beginning Sept. 9 at the Stillwater Public Library.
"It's been the most rewarding volunteer experience I've ever had the privilege to participate in and has laid a solid foundation for an ongoing theatre group experience for developmentally disabled adults in the community," Lawrence said.
PHOTO: https://www.flickr.com/photos/ostatenews/albums/72157669169624884