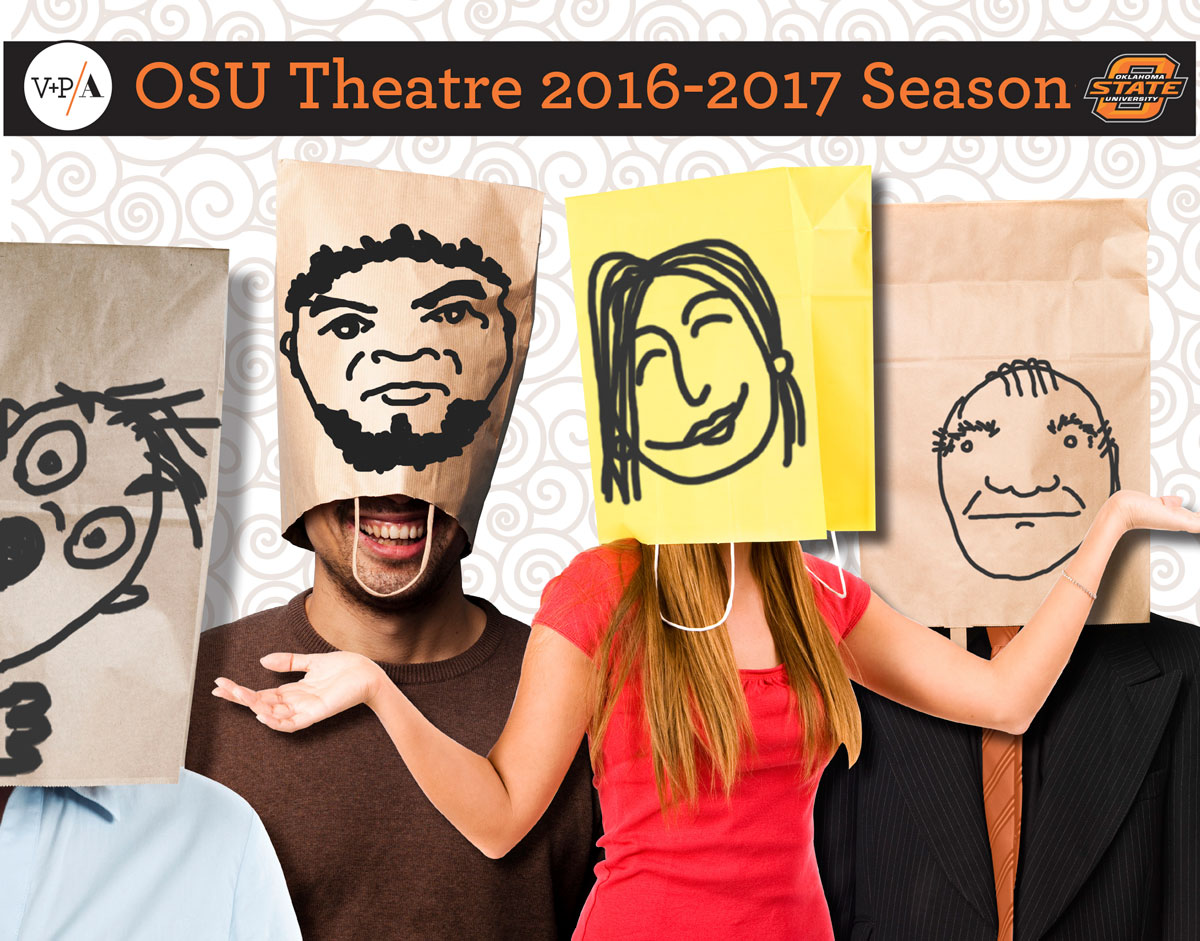 Season tickets are now on sale for Oklahoma State University's Department of Theatre's 2016-2017 Main Stage Season. The season tickets are good for the four main stage productions in the Vivia Locke Theatre during the school year and come at a discounted rate. Season ticket rates are $40 general admission, $30 seniors (65+) and $25 for students. Patrons save between $4 to $8 on the price of individual tickets.
Kicking off the season is The Call, a drama by Tanya Barfield, and is running Sept. 22-24 at 7:30 p.m. and Sept. 25 at 2:30 p.m. The play focuses on Annie and Peter's struggle to have a child and their eventual decision to adopt a child from Africa. With surprising news from the adoption agency, these first-time parents struggle with the reality of their situation. Hidden secrets are exposed, beliefs are challenged, and Annie and Peter face an unexpected choice. The production will be directed by G. D. Kimble, a playwright and director based in New York City. His residency on campus is funded in part by OSU's Division of Institutional Diversity.
Oscar Wilde's most brilliant tour de force, The Importance of Being Earnest, will run Nov. 17-19 at 7:30 p.m. and Nov. 20 at 2:30 p.m. The witty comedy of manners has been a favorite since its first performance in 1895. The comic masterpiece features Wilde's brilliant dialogue and leaves audience members anticipating the next plot twist every moment. Assistant Professor of Theatre Jodi Jinks directs. Joining her in this period production is Assistant Professor of Costume Design, Jeremy Bernardoni.
The spring semester will begin with Shipwrecked! by Donald Margulies. The play will run Feb. 23-25 at 7:30 p.m. and Feb. 26 at 2:30 p.m. Based on a true story, Shipwrecked! gives the account of Louis de Rougemont's exploits as a 19th-century British explorer. The outrageous tale has it all: adventure, death defying escapades and a monstrous man-eating octopus. The production features the scenic and properties designs of guest designer Rich Larsen, whose residency is funded in part by the Fae Rawdon Norris Endowment for the Humanities. Associate Professor of Theatre Lloyd Caldwell directs this fast-paced production with an abundance of physical comedy.
The final production will be the annual musical, The Spitfire Grill by James Valq and Fred Alley. The musical will run April 27-29 at 7:30 p.m. and April 30 at 2:30 p.m. It tells the story of Percy, a parolee fresh from prison, who find herself working at the Spitfire Grill, the only restaurant in a depressed Wisconsin town. The Grill is for sale, and Percy convinces the owner to raffle it off for $100 and an essay on why you want the grill. Soon, mail arrives by the wheelbarrow, and things are cookin' again at the Spitfire Grill. Professor of Theatre B. Peter Westerhoff directs with the participation of the OSU Department of Music. All of the productions feature the expertise of the Theatre faculty and students, specifically Professor of Design Heidi Hoffer and Assistant Professor and Production Manager Lee Brasuell.
A copy of the season ticket brochure can be seen and downloaded from the OSU Theatre website at theatre.okstate.edu. The brochure features a design by Valerie Kisling, senior graphic designer for OSU Marketing.
"Valerie's art captures what the season is all about," Andrew Kimbrough, head of department, said. "In most of these plays, characters are deliberately concealing their identities—and that, of course, causes problems! But all of us wear masks at some time or other, so our audiences should be able to relate to what the plays are all about."
Hard copies of the brochure are available by calling the Theatre Office. For more information about season tickets and to purchase online, visit theatre.okstate.edu/box-office or call (405) 744-6094.