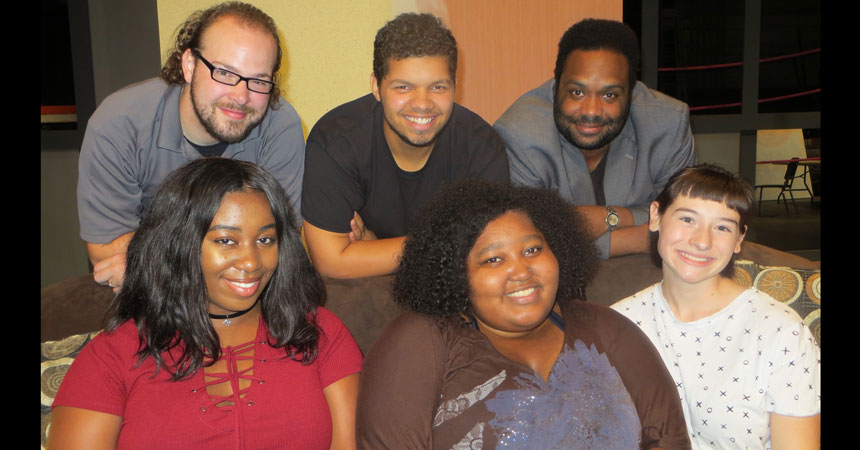 "The Call," a contemporary play about cross-culture adoption, will be the first in a series of main stage productions from OSU's Department of Theatre for the 2016-2017 school year. The interracial cast of five regularly step outside their comfort zone to deal with issues such as race, identity, courage and honesty in the play, which is set for Sept. 22-24 at 7:30 p.m. and Sept. 25 at 2:30 p.m. in the Vivia Locke Theatre of the Seretean Center for the Performing Arts.
Written by New York-based playwright Tanya Barfield, "The Call" is directed by G.D. Kimble, a playwright and director based in New York City. His stay on campus is partly funded by the OSU Division of Institutional Diversity.
Kimble admits he's particularly captivated by Barfield's writing. "She's crafted a piece full of complicated and troubled characters who aren't necessarily likeable all the time. The play suggests that sometimes goodwill and hope may not always be enough to save the day." Kimble said. "That's a type of writing the American theatre hasn't embraced in generations, and it's exciting to be a part of it now."
OSU senior Courtney Farney and graduate student Robert Mills play a twenty-something white professional couple, Annie and Peter, who struggle through infertility and in vitro fertilization in their frustrated efforts to conceive a child. After no success, the couple decides on international adoption and sets their sights on a baby from Africa, but not everyone is supportive of their international adoption.
Rebecca and Drea, played by junior Marlina Bruner and freshman Simone Pinnock, are an African American couple who grapple with the idea of a white couple raising an African child. Matters get more complicated when Annie and Peter's African neighbor, Alemu, played by sophomore Kelton Neals, insists on guiding them through the adoption process. When "the call" finally comes, uncomfortable truths get exposed, and the characters are forced to come to terms with new realities.
Farney, a theatre major from Broken Arrow, has been seen before on the Vivia Locke stage, particularly in "Almost, Maine" last year and "The 39 Steps" the year before. Despite her previous involvement, she admits she's stepping out of her own comfort zone to work in a heavier, dramatic piece.
"It's challenging to play someone in such a different stage in life as I am," Farney said. "It's difficult to keep in mind that for Annie to get to this point in her life, she has already given so much and lost so much countless times for years on end."
Andrew Kimbrough, professor and theatre department head, feels a special attraction to "the Call." His own personal connection to adoption, particularly international adoption, emphasizes the main struggles experienced by all of the characters in the play.
"As one close to the adoption experience and having gone through it myself, I'm aware that opening one's home to a child is a huge and difficult decision for some people," Kimbrough said. "I'm so glad G.D. has come on board to guide this production. He's helping make the difficult decisions and actions these people take seem real, honest and believable. Even if you know nothing about adoption, you'll relate to the strong feelings expressed in this tense and exciting play."
Tickets for "The Call" are $12 for general admission, $8 for seniors (65+) and $7 for students. All freshman students and first semester transfer students are eligible to receive a free ticket to the show. Season tickets are still available for the entire season at a discounted rate. To purchase tickets, visit theatre.okstate.edu/box-office or call the Box Office at (405) 744-6094.
PHOTO: https://www.flickr.com/photos/ostatenews/albums/72157670533528443