Poet laureate for Oklahoma ready to share love of state and poetry
Monday, October 31, 2016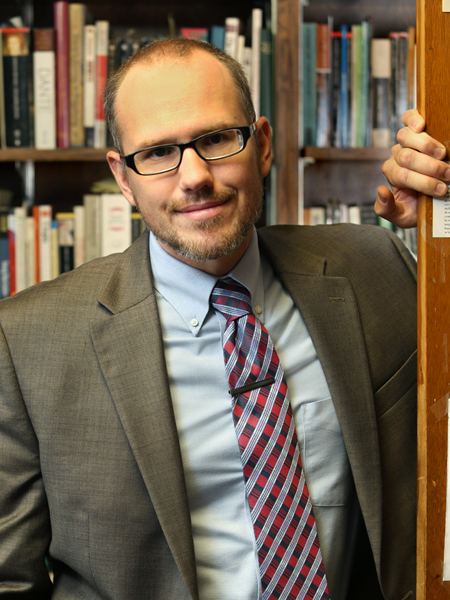 While April is designated as National Poetry Month, Oklahoma State University is celebrating early as it welcomes Dr. Benjamin Myers, poet laureate for the state of Oklahoma, to campus on Thursday, Nov. 3, at 8 p.m. in the Student Union Theater.
A literature professor at Oklahoma Baptist University in Shawnee, Myers is an award-winning author and scholar whose poems have appeared in prominent international journals. In addition to authoring his own works, Myers is a frequent reviewer of works of contemporary poetry for "World Literature Today," "Books and Culture" and other journals. He also received a Tennessee Williams Scholarship from the Sewanee Writers' Conference and was honored with an Oklahoma Book Award for Poetry from the Oklahoma Center for the Book.
"Dr. Benjamin Myers writes poetry that people can relate to, especially people from Oklahoma," said Brandon Mitts, Arts, Culture and Entertainment manager. "I think that the audience will leave Dr. Myers' reading with a renewed respect for poetry as well as a heightened awareness of all that surrounds us."
The State Poet Laureate program is facilitated by the Oklahoma Arts Council on behalf of the governor. An accomplished poet with two books of poetry to his name, "Lapse Americana" and "Elegy for Trains," Myers was named by Governor Mary Fallin as Oklahoma's State Poet Laureate for 2015-2016. The Oklahoma Arts Council, the official state agency for the support and development of the arts, works with the State Poet Laureate to coordinate activities and appearances in communities throughout the state, including Stillwater.
The presentation is free and open to the public, seats will be available in the Student Union Theater on a first come, first served basis.
The Dr. Benjamin Myers event is the first of two free performances in the 2016-2017 OSU Allied Arts series. The campus will also welcome Native American artist Bunky Echo-Hawk in February 2017. For decades the OSU Allied Arts office has brought top-notch talent to the Oklahoma State University campus. The Allied Arts office seeks to enrich the lives of students through the arts. Allied Arts will host eight performances during the year. For more information about Allied Arts and Dr. Benjamin Myers, visit alliedarts.okstate.edu.