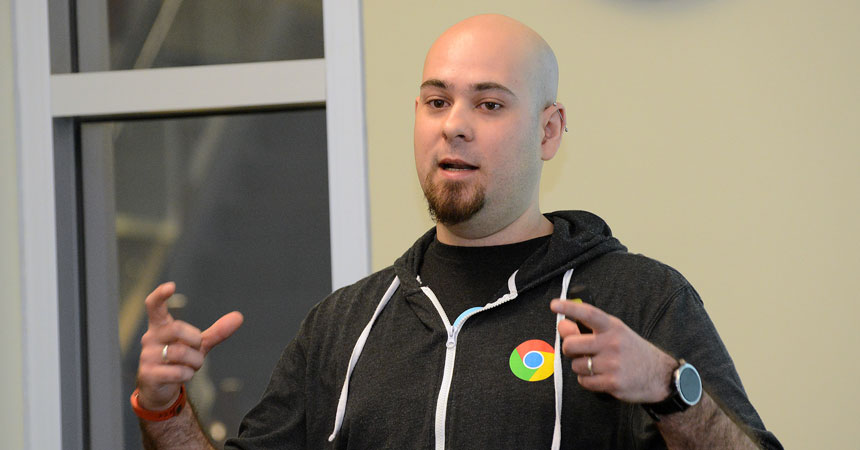 App developer finalists in Phase II of the 2015-16 Oklahoma State University 4th Annual Mobile App Competition demonstrated projects designed to improve area quality of life in the first competition sponsored by the City of Stillwater and OSU's Riata Center for Entrepreneurship.
As the primary sponsor, Stillwater chose two mobile app ideas from Phase I of the competition judged last fall. The app concepts were selected for their potential to meet needs of the Stillwater community. The theme for this year's competition was "Pioneering Quality of Life for Stillwater Residents." The first app idea centered around reuniting lost pets with their owners, while the second was an app to assist those with disabilities.
Winning for the third time, Marcus Gabilheri, a computer science major, won first and $3,000 in the lost pet category called Paws Alert. The team of Damith Perera, Deshani Fernando and Shanaka Paranahewage was runner up in the category, winning $1,000.
In the category of apps to aid the disabled, the team of Aaron Weaver and Alexander Melton was first, winning $3,000 in the category called AccessStillwater. There was no runner up in the category.
The competition was judged by OSU faculty, members of the OSU App Center Steering Committee and Stillwater city and community representatives.
"The apps presented today are so vital to the quality of life of our residents," said Meagan Kascsak, communications coordinator for the city. "We're so excited about the pool of talent and ingenuity at OSU and to use that resource and to grow this partnership."
Judge Stacy Delano, the adult services librarian at Stillwater Public Library, said the AccessStillwater app is needed because of a lack of tools to assist the disabled.
"I think AccessStillwater is really going to change lives," Delano said. "I know that with the group we work with at the library, this is really needed."
The City of Stillwater and the Riata Center sponsored the 4th annual mobile app competition, following insurer AAA Oklahoma's support since the contest's launch in 2012. AAA Oklahoma is the founding partner of the OSU App Center and now provides sponsorship funding.
"The App Center appreciates the mobile app developers who took significant time out of their schedule to compete," said App Center Manager Jai Rajendran. "I was told by several teams that this gave them a great learning experience. And I can't wait to see apps from this competition being used by the Stillwater community."
The OSU App Center is an on-campus resource for mobile app development. The center helps individuals build their app ideas and provides grant funding for app development. For information about the App Center visit https://appcenter.okstate.edu/.
PHOTOS: https://www.flickr.com/photos/ostatenews/albums/72157664074410913