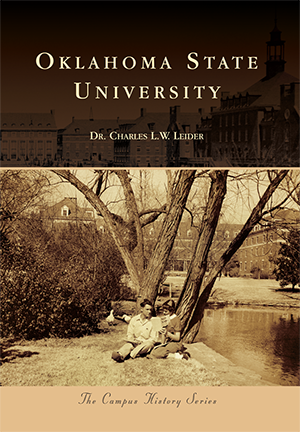 Filled with historical photos and illustrations of the Stillwater campus, a new book, "Oklahoma State University," takes the reader on a 125-year tour of familiar buildings and places with brief descriptions of the people and the plans that resulted in one of the most attractive college settings in the nation.
"I thought showing the campus master plans would be an interesting way to demonstrate how OSU has been continuously using them to guide its physical development from the very beginning, 1889 to the present" said Dr. Charles L.W. Leider, professor and director emeritus in landscape architecture. "The book showcases the landscape architecture and building results of professional OSU designers and students through the years."
The book also offers brief descriptions of the architectural periods on campus starting with the Prairie Victorian Period to the present Millennial Period, including the Neo-Georgian Period, developed under the administration of President Henry Bennett from 1930 to 1959, which gave the campus core its current dominate Neo-Georgian appearance.
The landscape architecture students in Dr. Leider's historic landscape preservation course helped commemorate the OSU Centennial by recreating the historic 1930 Neo-Georgian Master Plan, which had become fragmented and partly lost. The students were able to reconstruct the entire plan, as line and interpretive drawings, to present to the university on its 100th anniversary. These drawings are now on file in the U.S Library of Congress and Edmon Low Library on the OSU campus. Copies of the drawings from the 1930 master plan are included in the book.
"Oklahoma State University" is available in paperback from the University Store at OSU and major online distributors for $22. It is published by Arcadia Publishing, a leading local history publisher in the United States. For more information, go to www.arcadiapublishing.com.