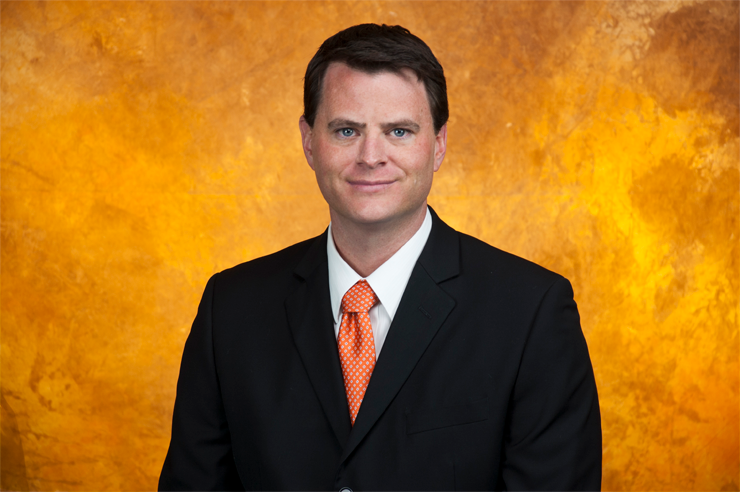 Brad Williams named president of Oklahoma State University-Oklahoma City
Friday, December 8, 2017
Oklahoma State University today named Brad Williams as president of Oklahoma State University-Oklahoma City (OSU-OKC), effective January 1. The appointment followed a national search and requires approval of the OSU/A&M Board of Regents.
Williams is currently vice president of student services at OSU-OKC, a position he has held since 2012. He replaces Natalie Shirley, who became OSU-OKC's fourth president in 2011.
"Brad is a talented, visionary leader," said OSU President Burns Hargis. "He has been instrumental in improving student success at OSU-OKC and I believe his campus familiarity and knowledge will mean continued growth and momentum."
Williams has done much to support student success at OSU-OKC, improving student recruitment, retention and completion. Under his leadership, OSU-OKC also improved student-centered programs and services through various campus offices and functions. He coordinated the first Paint This Town Orange fundraising event to raise funds for student scholarships.
In addition, he helped develop initiatives to secure grant funding for student mentoring programs, supplemental instruction, a single mother support program and veteran mentorship and emergency loan funds.
Williams was also instrumental in OSU-OKC developing important business and industry partnerships with Tinker Air Force Base, the City of Oklahoma City, Cox Communications and Dell.
Prior to OSU-OKC, Williams served as the Deputy Director of Strategic Planning & Initiatives at the Oklahoma Department of Commerce for six years. He also directed development at the Price Tower Arts Center in Bartlesville and at the University of Central Oklahoma Foundation.
Williams earned his bachelor's degree in communication, marketing and music at East Central University, a master's degree in Human Resource Administration at East Central University, and a Ph.D. in educational leadership and higher education from Oklahoma State University.