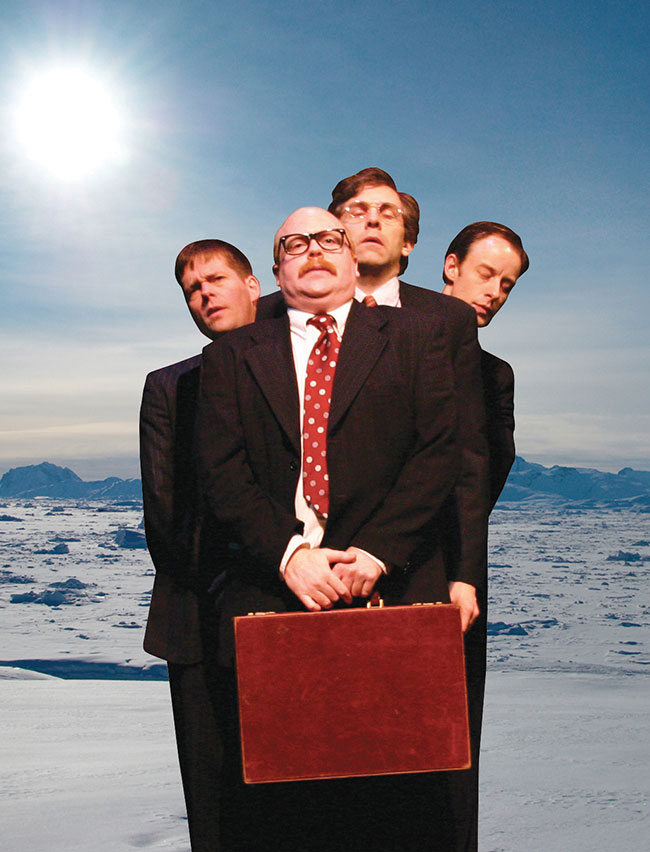 A theatre group known for its brilliant use of imagination, text and movement to create landscapes, vivid characters and epic stories, is making a stop in Stillwater. Split Knuckle Theatre with its cast of four dynamic actors will hit the Seretean Center Concert Hall stage on Friday, Jan. 20, at 8 p.m. for a performance of their play "Endurance."
Split Knuckle Theatre is a critically-acclaimed company that creates dynamic, physical, visually striking theatre from simple materials. They strive to make powerful theatre by engaging the audience and performers in collective acts of imagination. Using the expressive power of the human voice and body, they tell stories confronting the wonders and challenges of life in our world.
"Endurance" recounts the story of the great British explorer Sir Ernest Shackleton, who kept 27 men alive for two years in the most inhospitable climate on earth—Antartica. Ninety-five years later, in the worst economic meltdown since the Great Depression, Hartford insurance man Walter Spivey struggles to justify his recent promotion and save his employees' jobs, with only Shackleton's journal as a guide.
"I saw Split Knuckle Theatre perform in NYC last year and the audience was clearly mesmerized," said Brandon Mitts, Arts, Culture and Entertainment manager. "They are an impressive and versatile group of actors that are really physical and funny."
Tickets for the performance are $15 for adults and $10 for OSU students and children 12 and under. Tickets can be purchased online at tickets.okstate.edu or by phone at 405-744-7509. Tickets will also be available at the Seretean Center Concert Hall the evening of the performance beginning at 6:30 p.m. Doors open at 7:30 p.m.
The Split Knuckle Theatre performance is the fifth installment in the 2016-2017 OSU Allied Arts series. For decades, the OSU Allied Arts office has brought top-notch talent to the Oklahoma State University campus, enriching the lives of students and the community through the arts. Allied Arts hosts a total of eight performances during the year. For more information about Allied Arts and Split Knuckle Theatre, visit alliedarts.okstate.edu.
PHOTOS: https://www.flickr.com/photos/ostatenews/albums/72157675166061474