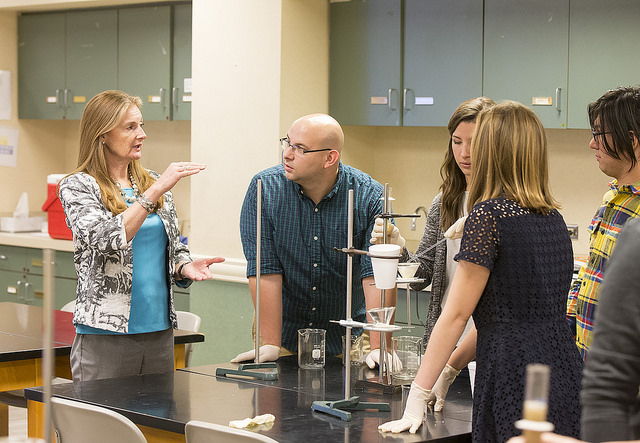 Education Professor Receives National Science Foundation Grant
Friday, August 25, 2017
The National Science Foundation (NSF) awarded Oklahoma State University science education associate professor Julie Angle $599,652 for a project that will focus on authentic undergraduate research experiences for future science educators. The three-year grant comes from NSF's Improving Undergraduate STEM Education: Education and Human Resources.
Angle, the Bill and Billie Dean Buckles Innovation in Teaching Endowed Professor in the College of Education, will work with co-principal investigators and fellow OSU faculty Donald French (Integrative Biology), Andrew Doust, (Department Head for Plant Biology, Ecology and Evolution) and Carissa Ramming (Architectural Engineering).
The project, "Transitioning Students to Teacher-Researchers," will address the immediate challenge of providing undergraduate research experiences for all students pursuing a Bachelor of Science degree with an option in teacher certification at the secondary level.
"By learning the nature of science through authentic research experiences, I believe pre-service teachers will strengthen their science literacy skills and be better equipped to engage their future students in the science and engineering practices identified in the Next Generation Science Standards," Angle says.
The model provides pre-service teachers with extensive mentoring by faculty and graduate students from multiple science and engineering disciplines and colleges across the university. Research mentors will be offered quality professional development designed to deepen mentors' understanding of the K-12 science classroom and skills in transitioning their STEM research to that environment.
Read more about the grant: http://bit.ly/2w8untX.