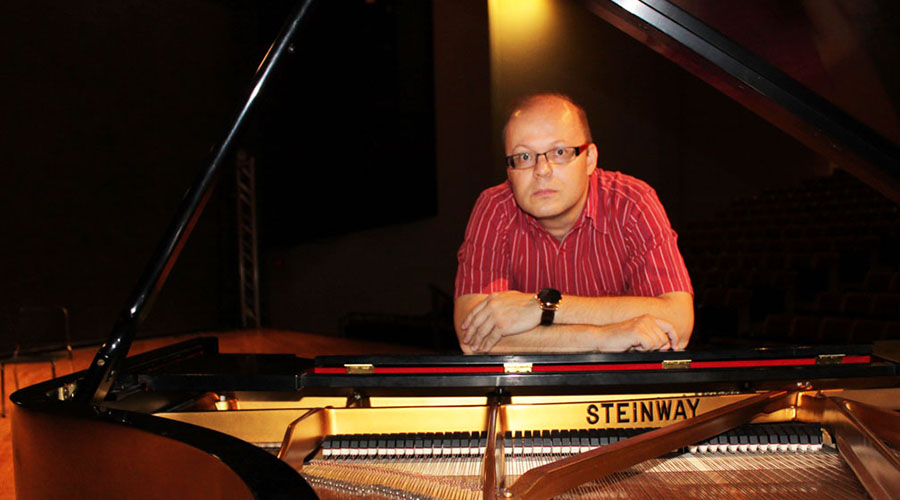 The works of composer Igor Karaca, who has written a diverse range of music from symphonies and motion picture soundtracks to jazz and pop-rock pieces, will be featured at the First Lady of OSU Concert on Sunday, Oct. 8, at 2:30 p.m. in the Seretean Center for the Performing Arts.
The concert will start with Dr. Karaca's own compositions, as performed by other faculty and the OSU Chamber Choir. It will conclude with Karaca on the jazz piano with support from the OSU Jazz Orchestra.
The concert is held in honor of Karaca, who is the recipient of this year's First Lady of OSU Distinguished Music Faculty Award, presented by the Friends of Music, the OSU Music Department, and the First Lady of OSU, Ann Hargis. He is currently teaching courses on music composition, counterpoint, music technology, and music theory at OSU.
Karaca, who came from Bosnia to the United States in 1999 to study music composition, received his doctorate at Ohio State University in 2005. His music employs a wide variety of techniques, ranging from subtly random, avant-jazz inspired textures, to more traditional, neoclassical style. His usual goal is to make his work accessible to a relatively large audience.
Karaca has written three symphonies, a suite for concert band, concertante works for clarinet and piano, thirty electronic and electro-acoustic compositions, over 70 chamber compositions, including the award winning "Wind Trio, Between Walls," for violin, clarinet and piano, and "Handful of Dust," for bass, clarinet and piano.
He has composed dramatic scores for three motion pictures: "A House Over the Rainbow," "Sarajevo War Diary," and "Tell Me Your Name Again," and three theater plays "Twelfth Night," "Fate of a Cockroach," and "Requiem for Bird Parker."
Karaca's recent performances include premiers in the USA, Croatia, Serbia, Romania, and the Netherlands, with additional performances in Germany, Ireland, France, Austria, Poland, Sweden, Switzerland, and Bosnia-Herzegovina.
He was also a member of the Sarajevo Jazz Quartet, the jazz quintet called Happy End, and Bosnian pop-rock band Punkt, for which he played the piano, Hammond organ and electronic keyboards.
Tickets are $10 for general admission and $7 for students and senior citizens and may be purchased online at http://music.okstate.edu or at the Music Department Office, 132 Seretean Center, phone (405) 744-8998. Tickets will also go on sale at the box office in the Seretean Center one hour before the performance.