Former OSU President and Oklahoma Senator James Halligan will share speaking responsibilities with Native American advocate and Oklahoma Hall of Fame member Neal McCaleb during graduation ceremonies set for Oklahoma State University on Saturday, Dec. 16, at Gallagher-Iba Arena. Halligan will speak to three colleges of graduating students at a 10:30 a.m. ceremony, while McCaleb will address three more at 1:30 p.m. The Graduate College commencement ceremony will be on Friday, Dec. 15, at 7 p.m. in Gallagher-Iba Arena.
Both speakers will also be honored on Saturday. Halligan and his wife, former OSU First Lady Ann, will receive the Henry G. Bennett Distinguished Service Award, which is the highest humanitarian award given by Oklahoma State University. McCaleb will be presented an Honorary Doctor of Science degree.
"We are pleased to present these well-deserved honors," said OSU President Burns Hargis. "As President and First Lady, Jim and Ann Halligan were outstanding ambassadors for our university and continued to serve our state and community with distinction. Neal McCaleb is a distinguished alumnus who has selflessly served Oklahoma, the Chickasaw Nation and our country."
Halligan served as OSU's 16th President for eight years, retiring in 2002. Six years later, he won election to the Oklahoma Senate, where he was an advocate for education and served on several committees including appropriations, education, energy, business and commerce, finance, and rules during two terms in office. He retired from the legislature in 2016.
As OSU's president, Halligan increased enrollment, emphasized student success, improved retention and graduation rates as well as scholar development. OSU was named a Truman Honor Institute and one of "America's Best College Buys" during his tenure. Focusing OSU research efforts on economic development and homeland security, Halligan also supported OSU's first capital campaign, which topped $260 million – more than double the original goal. In addition to the renovation of Gallagher-Iba Arena, construction of new campus research centers, including student facilities, multi-media classrooms and suite-style student housing, he oversaw the launch of OSU-Tulsa campus construction.
The Halligans hosted thousands of students in their home each academic year and supported student-run events such as Orange Peel, Homecoming, Varsity Revue and Into the Streets. The Halligans also led the university community through the emotional aftermath of the tragic plane crash in Colorado that claimed the lives of 10 members of the OSU family. The Halligan Hall of Scholars, which recognizes the major national and international awards won by OSU students, was dedicated in 2007.
Oklahoma City native Neal McCaleb has dedicated much of his life to public service, from his time in the Oklahoma Legislature to his appointment as assistant secretary of the interior and head of the Bureau of Indian Affairs.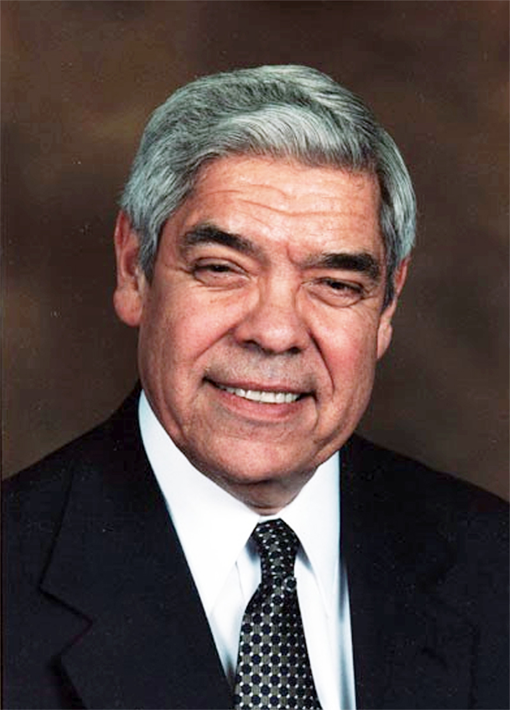 McCaleb graduated from Oklahoma State University in 1957 with a degree in civil engineering and soon participated in the planning and design of the interstate highway system. He also served as an assistant city manager in Oklahoma City for a few years before opening his own private consulting firm, which he ran for 25 years. He was elected to the state legislature in 1974, serving eight years in the Oklahoma House of Representatives, that last four as Republican floor leader.
McCaleb was appointed as the first secretary of transportation in Oklahoma, while serving as director of the state transportation department. He was appointed again in 1995 as secretary of transportation as well as director of the state turnpike authority and transportation department.
In 2001, President George W. Bush appointed McCaleb assistant secretary of the interior, which also made him head of the Bureau of Indiana Affairs, where he was an advocate for the improvement of tribal nations and their sovereignty. He later served as a special adviser for Indian economic development to Governor Bill Anoatubby of the Chickasaw Nation, for which he has also served as an ambassador-at-large. McCaleb is a member of the Chickasaw Nation.
McCaleb was inducted into the Oklahoma Hall of Fame in 2014.
The 10:30 a.m. Saturday ceremony will honor students from the College of Human Sciences, College of Engineering, Architecture and Technology, and the Spears School of Business. The 1:30 p.m. ceremony will recognize students from the College of Education, Health and Aviation, the College of Agricultural Sciences and Natural Resources, and College of Arts and Sciences. All the ceremonies, including the graduate ceremony on Friday, will be streamed live online at OState.TV.
The OSU Pipe Band will lead the Saturday processional in Gallagher-Iba Arena, where candidates will be seated by college. Each candidate will be announced individually, photographed and presented an OSU Commencement print while crossing the stage.
For more information on commencement, including directions for parking, go to commencement.okstate.edu.