Organization names Philanthropist of the Year, awards 10 scholarships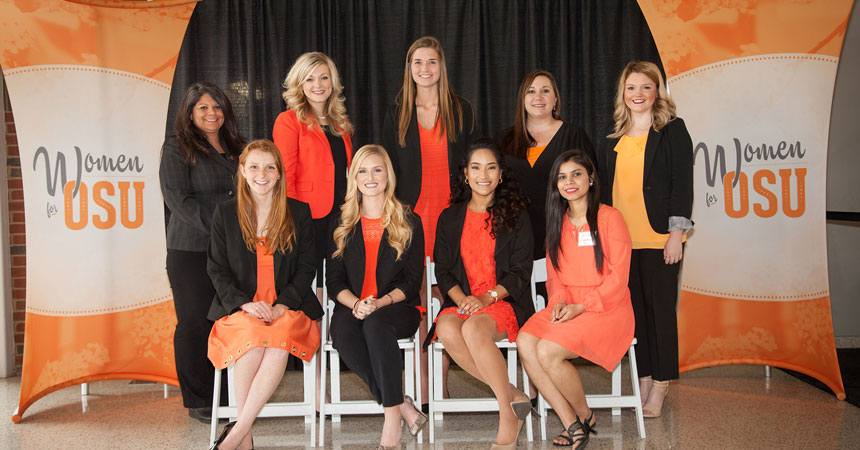 Women for Oklahoma State University hosted its ninth annual Symposium last month, highlighted by a keynote speech from one of the most recognizable women in America, Joan Lunden. The organization awarded 10 scholarships totaling $43,020, which were both records. Also, Linda Cline was recognized as the Philanthropist of the Year at the event that drew 510 attendees.
This was the second year in a row that the high demand for tickets led to the event being held at Gallagher-Iba Arena, with the tables covering Eddie Sutton Court.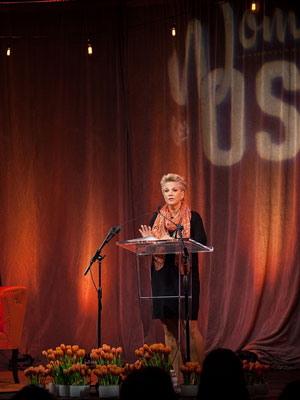 Lunden's speech discussed her path from being a "weather girl" in Sacramento to anchoring the evening news and eventually 19 years as co-host of Good Morning America. She also talked about her battle with triple negative breast cancer, which was diagnosed in June 2014 and required chemotherapy, surgery and radiation.
"When the going gets tough, you can't quit," Lunden said. "You have to hang in there and believe you're going to make it. … Sometimes the most important things we say all day are the things we tell ourselves. 'Yes, I can do this.'"
She also talked about balancing her successful career and private life, including being a mother of seven. She included inspirational messages such as, "We are all writing our life's story and the pen is in our hands," and, "You have to be willing to risk not being great for the chance to learn how to do something great."
Cline, who owns Char-Lin Ranch in Cushing, received the prestigious Philanthropist of the Year award for her support of many needs at OSU and in her community. She memorialized her husband by providing a major gift to name OSU's state-of-the-art Charles and Linda Cline Equine Teaching Center. It includes a teaching barn with stalls for foaling mares, a small indoor arena, classroom, conference room, feed and tack room, wash rack, treatment area and offices. OSU Extension Services can utilize it to host workshops and learning opportunities for students, 4-H clubs and FFA chapters, as well as the general public.
"I think you just get led to do things," Cline said. "I just do what I think might be helpful and what I want to do. It's just seeing the need and saying, 'Is that a place I want to help? Do they need help?'"
The Clines bought what they expected to be their retirement property outside Cushing in 1985. They later purchased the 17 horses that established the ranch that peaked at more than 2,500 cattle and 300 horses, earning more than 200 world and reserve world championships before downsizing in recent years.
The Clines did not attend OSU but credited much of Char-Lin Ranch's success to the university's faculty visiting the ranch, working with and teaching them, as well as the treatment their animals received at the OSU Center for Veterinary Health Sciences. That led to a long-running relationship with the university's equine program, which they supported through donations as well as opening their operation to student tours and hiring countless OSU students. They also allowed the Department of Animal Science to use their animals for teaching opportunities, judging team practice, clinics and contests. They even donated several world-class horses to improve the genetics of OSU's teaching herd and endowed a professorship.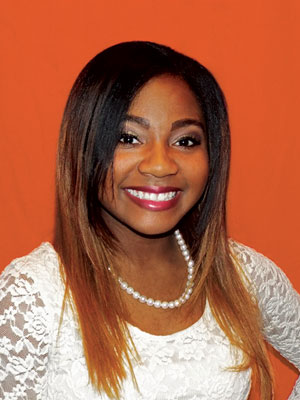 In addition to Oklahoma State University, Linda Cline also supports the Right Path Riding Academy; the Special Olympics; Love, I.N.C.; Shiloh Camp; and the American Quarter Horse Association. She is also active in the First United Methodist Church of Cushing.
Amy Mitchell, an alumna and chair of Women for OSU, provided an update on the organization, including some impressive statistics. The group has awarded $187,370 in scholarships to 49 students during its nine-year history. It has hosted more than 3,000 women at its various events. The 45 current members of the organization's Council have given more than $120 million to support various needs at OSU, and the combined giving of everyone who attended the Symposium exceeded $147 million.
Eight recipients were named Women for OSU scholars: Christina Anaya, an integrative biology doctoral student from Fallbrook, California; Megan DeVuyst, an agribusiness junior from Morrison, Oklahoma; Abbey Grimes, a microbiology sophomore from Bartlesville, Oklahoma; Darci Klein, a counseling psychology doctoral student from St. Louis, Missouri; Wendy Lau Wong, an industrial engineering and management junior from Panama City, Panama, and Oklahoma City, Oklahoma; Courtney Mapes, an animal science junior from Alva, Oklahoma; Ayrianna Swanson, a French, microbiology and biochemistry sophomore from Oklahoma City; and Karlie Wade, an agricultural communications and pre-law sophomore from Perry, Oklahoma.
There were also two named scholarship awards announced. The Wirt June Newman Memorial Scholarship supports students planning a career in public or government service. It was presented to Krista Boston-Fullerton, an educational leadership and policy studies doctoral student from Stigler, Oklahoma. The Sheryl Benbrook Women for OSU Scholarship is designated for graduate students. This year's recipient was Sulochana Paudyal, an entomology doctoral student from Bharatpur, Chitwan, Nepal.
The master of ceremonies was alumna and reporter Jocelyn Lockwood. She and Mitchell closed the event by announcing that next year's 10th annual Symposium, scheduled for April 5, will feature Academy Award-winning actress Octavia Spencer as keynote speaker. It is the highlight of the organization's year-long celebration of its 10th anniversary.
Women for OSU is a diverse group of visionary women who share a passion for inspiring leadership and financial support to OSU. Women for OSU envisions a culture of giving and service that acknowledges the significant impact women have at OSU and inspires others to positively shape the future of the university through philanthropy and engagement.
For more information, visit OSUgiving.com/women.
PHOTOS: https://www.flickr.com/photos/ostatenews/albums/72157681327107402