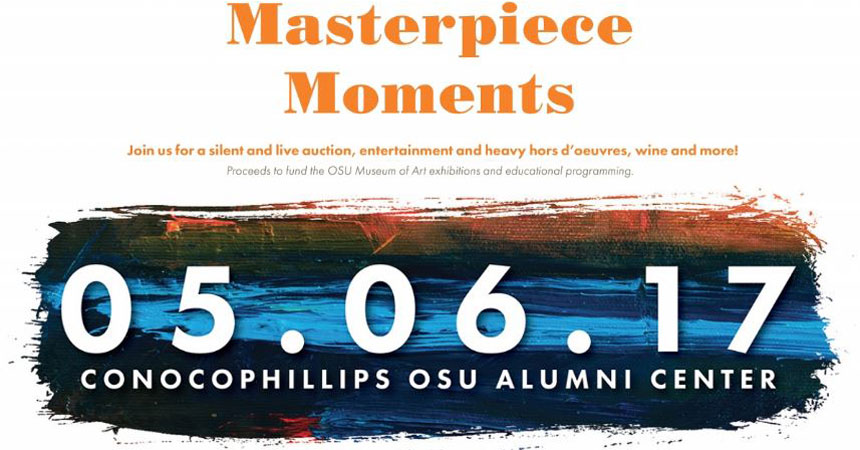 Masterpiece Moments: Artist at the Table will combine artists' talents and the community's commitment to the arts in a fun-filled night on Saturday, May 6, at 6 pm.
The premier event, held in the ConocoPhillips OSU Alumni Center, will include wine, heavy hors d'oeuvres, a silent and live auction, and entertainment, with proceeds supporting the Oklahoma State University Museum of Art's exhibitions and educational programming.
Famous artwork and artists – Warhol, van Gogh, and Degas, for example – will be the inspiration behind a gallery of tablescape creations. These interpretive works of art will be constructed by friends and advocates of the OSU Museum of Art.
"Masterpiece Moments will be an evening to honor and promote what the OSU Museum of Art is all about: education and community outreach," said Shawn Howell, Masterpiece Moments co-chair and OSU Museum of Art Advocate. "The evening will be a vivid, colorful walk into the magical world of many different artists, with a sample of their style displayed by our talented tablescape designers."
Since opening its doors in 2013, the museum has had more than 16,000 visitors. It houses OSU's permanent collection of art, and hosts a variety of exhibitions, educational programs, and community events each year.
"As an Advocate, I am passionate about the role of the museum in our community," said Brenda Spaulding, Masterpiece Moments co-chair and OSU Museum of Art Advocate. "Because it is becoming increasingly more difficult to provide art within our public schools, I think these types of educational programming and resources can help bridge that gap."
Howell and Spaulding belong to a group of OSU Museum of Art Advocates who support the museum and its outreach to the community through their advocacy, volunteer work, and various contributions. The Art Advocates play a vital role in expanding the museum's reach in the community, helping provide transformational art experiences to as many people as possible.
Tickets for the event can be purchased online at osugiving.com/MasterpieceMoments. More information is also available at museum.okstate.edu.
About the OSU Museum of Art
For more information about the OSU Museum of Art, visit museum.okstate.edu or call 405-744-2780. All exhibitions are free and open to the public. The museum is located at 720 S. Husband Street in downtown Stillwater. Hours: Tuesday through Saturday from 11 am to 4 pm.