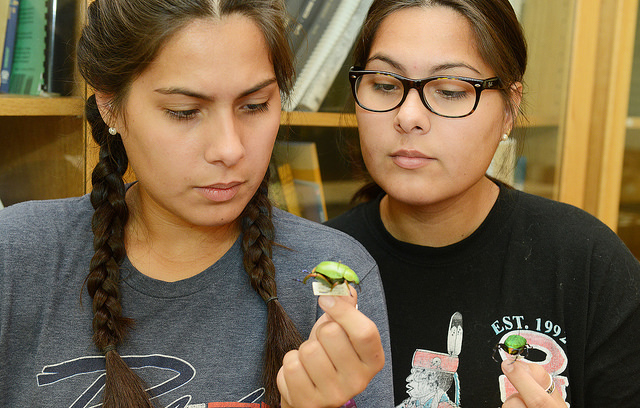 Twins Taylor and Alexis Coles, Oklahoma State University entomology freshmen from Norman, have done everything together from day one. Now, their joint interest in the study of insects will take them on an adventure that could help improve the health of their fellow tribal nation members.
Thanks to a grant to the Center for Sovereign Nations at OSU, the pair will join Dr. Wyatt Hoback in a research program that is exploring reasons Native Americans suffer twice the rate of certain insect-related diseases, such as Rocky Mountain spotted fever, than non-natives.
Taylor and Alexis, who are members of the Choctaw Nation, are two of six Native American students who have received research funding from the grant, which partners the center, the Choctaw Nation and the Department of Entomology and Plant Pathology at OSU.
Dr. Elizabeth Payne, founder of the center, called Taylor to ask if she'd be interested in applying to the program, to which Taylor replied, "Only if there's a spot for my sister."
At the time, Alexis, who was serving at a camp for children with cancer, said she remembers jumping at the chance to join her twin in the four-year program.
"I did it because of her," Alexis said.
The sisters are pursuing a pre-medical degree option, something they feel passionately about after a shared childhood experience.
Alexis was diagnosed with a type of blood cancer in 2009 when she was nine years old. After receiving a bone marrow transplant from Taylor, both girls took an interest in the medical field.
"We knew that we wanted to be doctors, but that was about all we knew," Taylor said. "We didn't even know entomology was a path to healthcare, but we've learned so much about it now. We can help find cures for diseases in a way we didn't even consider."
Hoback, an assistant professor of entomology, said it is uncommon for people to consider an entomology major because they don't see the value of studying bugs. However, insects kill more than one million humans a year and eat about 20 percent of the world's food production.
"We designed this program to recruit Native American students to become entomologists with the idea of tying back to their tribes and helping out their nations," Hoback said.
An important part of the students' research will focus on learning whether the high rates of insect-related diseases are related to cultural practices or genetics.
Very few Native American students are currently earning degrees in entomology, Hoback said. In fact, OSU is one of only 13 entomology programs left in the nation.
"The lack of trained entomologists exacerbates losses caused by insects," Hoback said.
With this in mind, Taylor and Alexis said it's more important now than ever that Native American students pursue this degree and learn how to help their nations.
"We always knew we wanted to help people," Alexis said. "We look forward to doing the research and hope that we'll be able to give back to the Native American tribes and communities."
The Center for Sovereign Nations was created in 2015 as part of OSU President Burns Hargis' vision for focused service to the 38 federally recognized tribal nations in Oklahoma with a lead investment from the Chickasaw Nation. To learn more about the research program and the center, visit sovnationcenter.okstate.edu.
PHOTOS: https://www.flickr.com/photos/ostatenews/albums/72157688938939936
Story by Aubrie Bowlan