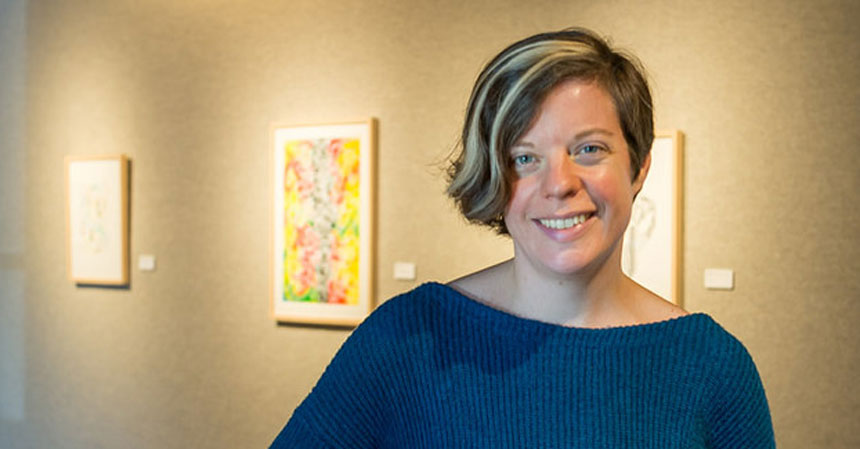 The National Endowment for the Arts (NEA) has awarded a $20,000 grant to Oklahoma State University art historian, Dr. Louise Siddons, to support a traveling retrospective exhibition of Oklahoma modernist painter, sculptor, and printmaker J. Jay McVicker. The grant will also fund the first scholarly book to survey McVicker's career.
Born in rural Oklahoma, McVicker (1911-2004) spent his entire career at OSU. Siddons' goal is to revive the critical praise he received, particularly during the period from 1945-65, and to elevate his historical status. She notes most of the criticism and academic evaluations of American post-modern art after World War II focus almost exclusively on artists in New York and Los Angeles.
"My interest started because I thought we needed to do some shows to exhibit McVicker's work," Siddons said. "Then I realized his story was a bigger story and it became a book about post-modern art."
The exhibition, "J. Jay McVicker: Oklahoma Modernist," will debut at the OSU Museum of Art in September 2018. The NEA grant allows Siddons to take the show outside of the region.
"We can offer the show to other audiences and I hope it persuades them that this is fascinating work and we can tell the story of postwar American art in a different way," Siddons said.
Totally unfamiliar with McVicker's work before arriving in Stillwater in 2009, Siddons was immediately drawn to his prints and paintings while cataloguing artwork across campus for the museum. It was that type of discovery she imagined would give the OSU Museum of Art an identity.
"One of the things that makes us unique is our amazing faculty artists," Siddons said.
Since "discovering" McVicker, Siddons has curated several exhibitions of Oklahoma modernism that included his work in the broader field of mid-century art production. She has also participated in programs such as the Oklahoma Arts Council's Leadership Arts fellowship. With the support of the NEA grant, Siddons hopes a broad audience will share her excitement for the work of one of OSU's most talented faculty artists.
Siddons graduated with a doctorate in art history from Stanford University, and taught at San Francisco State University and Michigan State University prior to joining the OSU faculty.
About the National Endowment for the Arts
Established by Congress in 1965, the NEA is the independent federal agency whose funding and support gives Americans the opportunity to participate in the arts, exercise their imaginations, and develop their creative capacities. Through partnerships with state arts agencies, local leaders, other federal agencies, and the philanthropic sector, the NEA supports arts learning, affirms and celebrates America's rich and diverse cultural heritage, and extends its work to promote equal access to the arts in every community across America. For more information, visit http://www.arts.gov