New wellness program benefits facilities management employees
Tuesday, October 24, 2017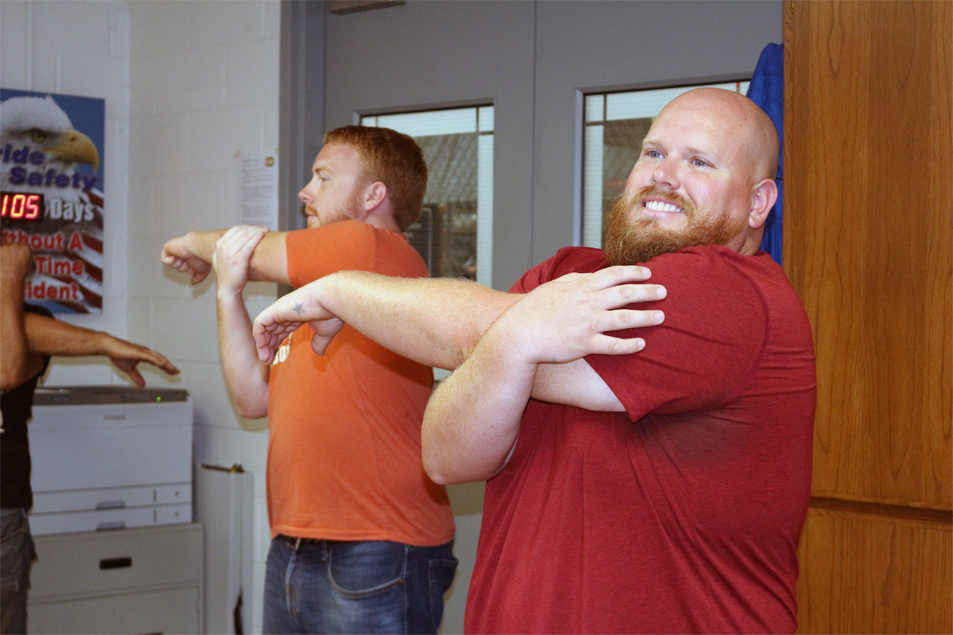 Oklahoma State University Facilities Management and the OSU Department of Wellness have collaborated to implement a program called Work Readiness, which involves stretch training to improve employees' safety and wellness.
Facilities management has one of the largest staffs at OSU with 35 shops under six departments. For most of its employees, the workday includes physically demanding tasks that require a lot of movement and heavy lifting. Work Readiness was developed to prepare employees for daily work activities, emphasize safety, improve communication and promote wellness.
"My hope is that this program demonstrates how we truly care about our employees' overall health and wellbeing and are serious enough to try to help," Joey Keel, senior human resources generalist, said.
Work Readiness begins in the morning during a daily meeting within each department or shop. The stretch-training sessions last about four minutes and rotate throughout the week from upper to lower body or any specific stretch that applies to the unique movements workers in different departments perform. While employees warm up and stretch, the meeting is also used to discuss human resources updates, facilities management announcements and specific work duties. All personnel are required to attend the meeting, but participating in the physical activity is voluntary.
The idea for the program began in a facilities management advisory committee, which listens and addresses employees concerns and recommendations. Chief Wellness Officer Todd Misener and Mary Talley, who retired from employee wellness assistant director in August, were interested in how the department of wellness could give more support to facilities management. While discussing ideas, an FMAC chairman recalled an employee mentioning how he would stretch every day before a shift at a previous company. The committee added the specifics to this basic idea to develop Work Readiness.
Twenty shops within three departments currently participate in the program. Facilities management hopes to eventually implement Work Readiness throughout its departments.
"We are committed to growing our outreach and collaboration efforts throughout our campuses," Misener said. "This program represents the fruit that can grow from outreach efforts to campus employee groups. Facilities management and our employee wellness staff are to be commended for their collaboration efforts."
Staff from facilities management and the department of wellness have been attending employee meetings to help implement Work Readiness. Their role is to inform workers why the stretches are beneficial to their daily routines and demonstrate how to correctly perform the movements. To ensure everyone is doing the stretches appropriately, an employee is selected as the "champion" and taught how to lead the stretches. In addition to instruction, there are posters hung in the meeting areas displaying correct form.
Facilities management conducted anonymous surveys within departments and shops two to three weeks after the Work Readiness program's implementation in April. The survey consists of scale-questions such as very satisfied to very dissatisfied and a free-response question to better understand the employee's feelings toward Work Readiness.
"Not only have we received mostly positive feedback, but the employees want to do more exercises or perform them more times a day," Daniel Alexander, facilities support services manager, said. "Overall, Work Readiness has been highly effective based on the surveys that have been conducted so far."
Because the majority of employees have enjoyed the program and its results, some shops have chosen to add additional stretches or movements such as squats or, in one case, Tai Chi. Employees have told Keel they're more flexible and awake while on the job.
"Some of my older employees have said they're not as stiff throughout the day," said Chad Tucker, assistant supervisor of recycling. "This program seems to be working."
In addition to the program's active sessions, the participation in morning meetings has improved team morale and social interaction. Prior to Work Readiness, group meetings did not occur every day; the staff would be given their orders individually at the start of their shift. Dave Brown, landscape services design, has noticed the daily meetings add organization and consistency within each department.
"As a supervisor, we use these meetings for human resources, wellness or any campus-wide announcements," Tucker said. "It's an easy way to make sure the employees are getting information they may have missed in an email."
PHOTOS: https://www.flickr.com/photos/ostatenews/albums/72157687742704170
By Michaela Gleason