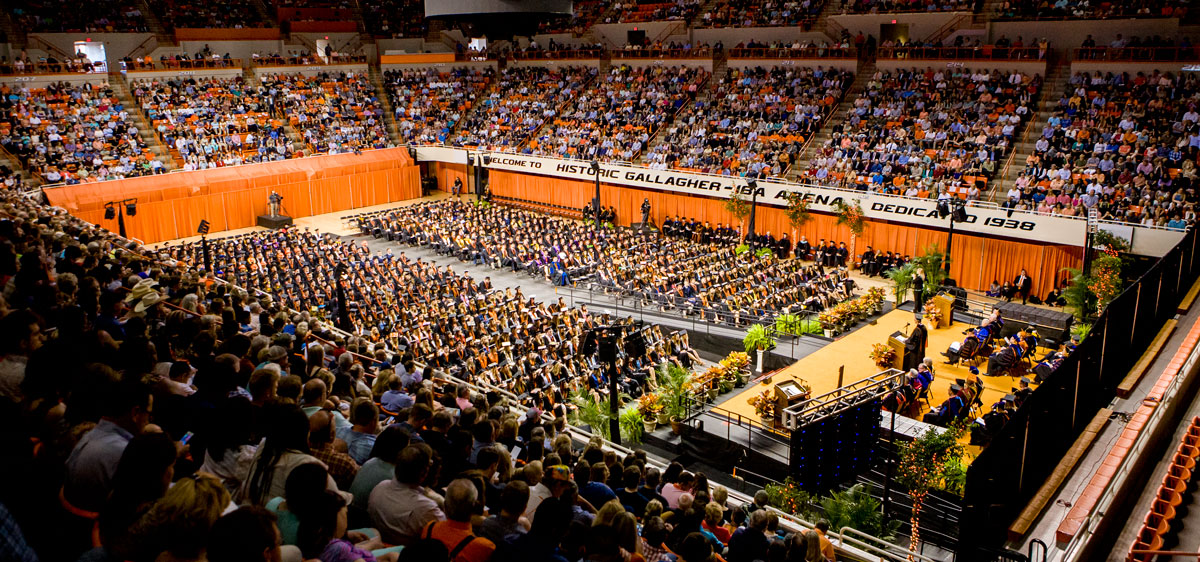 Oklahoma State University concluded the 135th commencement on its Stillwater campus with four undergraduate ceremonies Saturday at Gallagher-Iba Arena.
An estimated 3,600 students earned degrees during six commencement ceremonies Friday and Saturday. In addition to the four undergrad commencements, OSU Center for Veterinary Health Sciences held its hooding ceremony and the OSU Graduate College recognized more than 650 students for advanced degrees on Friday.
Saturday's undergraduate ceremonies each featured an OSU alumnus as commencement speaker. Larry Bryce, president of Kohler Power Systems, which produces and markets generators and engines on a global basis, spoke to graduates from the College of Human Sciences, and College of Engineering, Architecture and Technology.
Dr. Bob L. Blackburn, executive director of the Oklahoma Historical Society, was speaker for the College of Arts and Sciences ceremony. Joseph Eastin, president and CEO of ISN, a global leader in contractor and supplier management systems, and one of the fastest growing privately-owned companies for the past ten years, was the speaker for the Spears School of Business ceremony.
Entrepreneur and innovator Piyush Patel, head of Digital Tutors, a leader in online training, spoke to graduates from the College of Education, and the College of Agricultural Sciences and Natural Resources. During his remarks, Patel announced that he and his wife Lisa had created a scholarship to cover student loans for College of Education graduate and future teacher Danielle Foster.