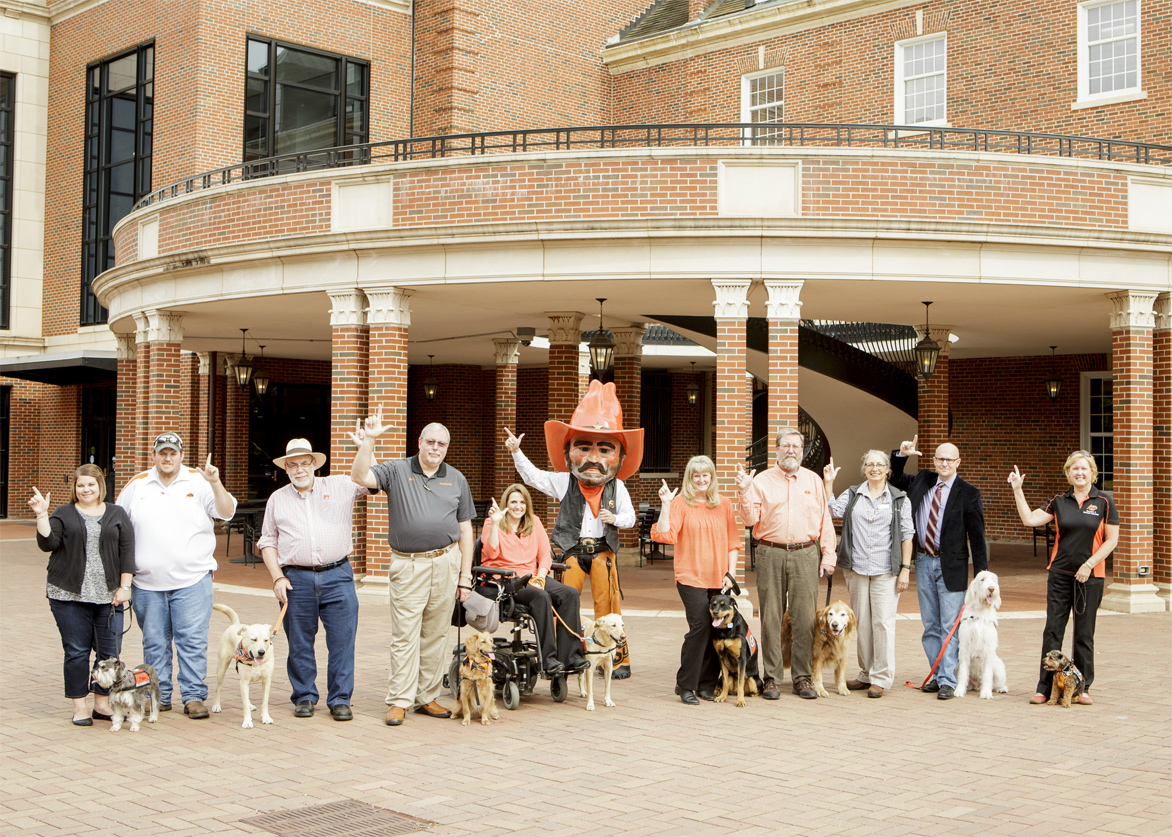 A new class of wagging tails and smiling faces joined the Oklahoma State University Pete's Pet Posse, the nation's most comprehensive university-based pet therapy program.
Pete's Pet Posse, named after OSU's iconic mascot Pistol Pete, held its traditional Barkalaureate ceremony to officially welcome Class 5 into the Posse this summer. The ceremony transitions dogs and their owner/handers into the program upon completion of training. All dogs have passed their AKC Canine Good Citizen tests. Additionally, the dogs are all nationally registered with the Alliance of Therapy Dogs. The installation of Class 5 brings the total number in Pete's Pet Posse up to 46 pet therapy dogs across three Oklahoma State University campuses.
"Pete's Pet Posse has grown far beyond our wildest expectations – these dogs have truly changed lives!" noted OSU First Lady and Pete's Pet Posse owner/handler Ann Hargis. "The program began in 2013 as an extension of our commitment as America's Healthiest Campus with 8 pet therapy teams intended to simply bring smiles to our campus. As the program has matured, the dogs have been used in crisis and grief situations, some teams have specialized to help in counseling sessions for such problems as nutrition counseling for eating disorders and speech therapy sessions.
Most of the Pete's Pet Posse teams serve in the campus offices where their owner/handler works. Teams are based regularly at the Student Union, Human Resources, OSU Alumni Association, and the College of Arts & Sciences. The dogs also make regular weekly appearances on campus at the library, in residence halls and at special events such as new student orientation and during high campus stress times such as finals testing weeks.
All of the dogs are volunteers and live with their owner/handlers in their homes. When they don the Pete's Pet Posse orange pet therapy vests they officially go to work with the Posse.
"Our dogs smiles are infectious bringing so many smiles in return," continued Hargis. "Crowds flock together around the dogs where ever we go. Sometimes students are lonely for their family dogs at home, staff and students are sometimes having a stressful day and just need the unconditional love a dog has to offer and sometimes they simply can't pass by a dog whose face is begging to give them attention."
OSU employees may apply for Pete's Pet Posse Class 6 in August.