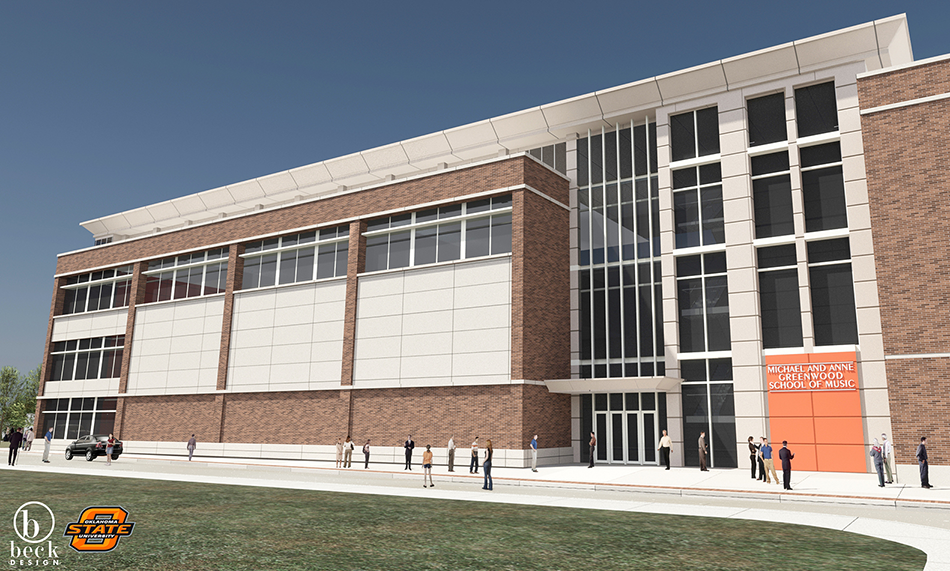 Philanthropists Michael and Anne Greenwood have made a generous gift to name the new home for the university's music education programs at Oklahoma State University. In honor of the significant gift, the building will be named the Michael and Anne Greenwood School of Music. The Greenwoods were recognized for their gift Sunday during a Friends of Music benefit event at the OSU Botanic Garden.
The Greenwoods' gift will allow construction to start immediately on the new facility, which will be connected to The McKnight Center for the Performing Arts on the southwest corner of University Avenue and Hester Street. Both are expected to debut in the fall of 2019.
The Michael and Anne Greenwood School of Music will house a variety of music laboratories, classrooms, rehearsal spaces and premier teaching studios equipped with the latest technology for high-level studio production, offering a premier teaching experience. More than 2,100 students participate in music programs at Oklahoma State, including the OSU Marching Band, orchestra and various chorale groups.
"The generous gift from two of OSU's most loyal contributors, Michael and Anne Greenwood, will enable us to realize one of our longstanding goals of building an exceptional facility for our music faculty, staff and students that will be second to none," said Burns Hargis, OSU President.
He said their gift, which puts OSU well on its way to reaching its $15 million fundraising goal for the $28 million music building project, will have a broad impact at Oklahoma State University.
The Greenwoods serve on numerous boards and committees at OSU in various volunteer and leadership capacities for colleges across the university. They have supported several programs at OSU with financial contributions, including endowing three scholarships. To recognize and honor their generosity over the years, OSU established the Anne Morris Greenwood Reading Room in the Edmon Low Library and the Michael and Anne Greenwood Tennis Center, one of the finest collegiate facilities and home to OSU's top rated women's and men's tennis programs. Anne and Michael are lifetime members of the OSU Alumni Association and were inducted into the OSU Hall of Fame in 2016 and the Spears School of Business Hall of Fame in 2015.
"We both recognize and appreciate how influential our time at OSU was to our careers and other successes we've enjoyed throughout our lives. We are gratified to be in a position to step forward with lead gifts to support the bold vision of President Hargis to build an exceptional music and performing arts school at Oklahoma State University," commented Michael Greenwood. "It is rewarding for Anne and me to be a part of bringing positive growth to the Department of Music for the benefit of faculty and students to enjoy for decades to come."
"It's no surprise, we love OSU and music. We believe music enlightens and enriches the campus experience for all students at OSU. Great universities have wonderful music and performing arts programs, and Michael and I are pleased that this gift will allow OSU's music educational programs to progress at a more rapid rate in the years to come and showcase the extraordinary talents of the students and faculty," said Anne Greenwood.
In addition to the Greenwoods, Hargis also recognized the Edward and Helen Bartlett Foundation for its commitment to the music building and Jonathan Drummond and other donors who made early commitments to the adjoining McKnight Center for the Performing Arts.
"The Michael and Anne Greenwood School of Music and The McKnight Center for the Performing Arts will be catalysts to create a nationally recognized center for music education over the next decade," Hargis said. "Together, and with additional money we will raise in the coming months, we are building inspiring facilities designed exclusively to meet the specific needs of our music programs and support first-class programming on a world stage in Stillwater, Oklahoma."
Dr. Howard Potter, head of the Department of Music, called OSU's music programs hidden gems that are rapidly being discovered.
"The Greenwoods and all of the donors behind OSU's music initiatives are putting us in a position to continue to achieve national accolades and prominence," Potter said. "Our faculty and students will pursue their intellectual pursuits in the finest facilities and will achieve more than ever before. We are indeed exceptionally grateful to the Greenwoods for their lead gift and for the trust they've placed in us to continue building a distinctive music program."
Potter is preparing for OSU to add degree programs in a variety of areas, including Jazz Performance, and for popular existing programs such as Music Industry Business to rise in acclaim because of the Greenwoods' gift and the opening of The McKnight Center. He expects an influx of applications from around the world after the buildings open in 2019, demonstrating the distinctive offerings and masterclass opportunities from world-renowned visiting artists, including the internationally celebrated New York Philharmonic.
For more information about Oklahoma State's music programs, visit music.okstate.edu. To learn more about The McKnight Center for the Performing Arts, visit McKnightCenter.okstate.edu.
PHOTOS: https://www.flickr.com/photos/ostatenews/albums/72157687085024424