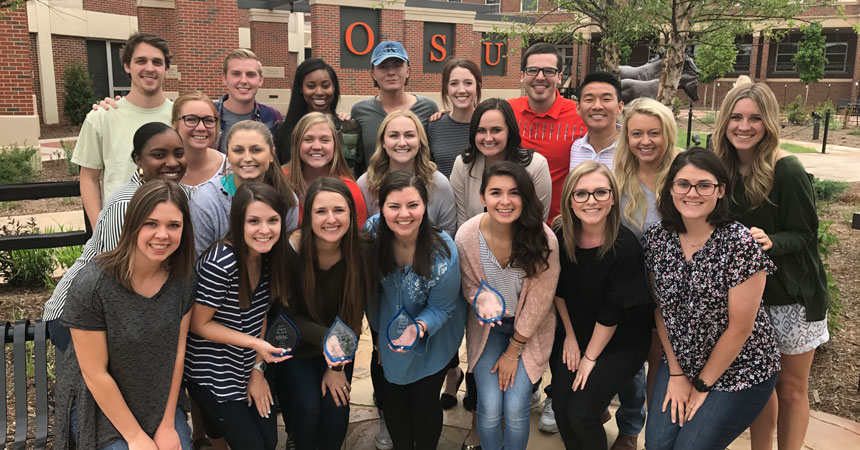 A group of Oklahoma State University undergraduate students placed first at the 10th District National Student Advertising Competition (NSAC), and have advanced through semi-finals to the national finals.
"This is only the second time in nearly 30 years that OSU has made it to nationals, so I could not be more proud of them," said Dr. Cynthia Nichols, associate professor for the OSU School of Media and Strategic Communications. "The NSAC team competed against some incredible schools, but the judges told me that Oklahoma State's book was the obvious winner at Districts. Their tireless work paid off."
The competition is organized by the American Advertising Federation (AAF) and involves more than 3,000 students from across the country. The top eight campaigns will compete for the national title at the AAF's national conference, ADMERICA, held June 8-10 in New Orleans.
"They worked countless hours and came up with a brilliant plan," Nichols said. "But now we need help getting to New Orleans. This is only the second time OSU has made it to nationals, and we need the help of our alumni and friends to get us there."
Beginning May 5, the NSAC team will be raising funds for this trip through PhilanthroPete, the OSU crowdfunding website. The club aims to raise $10,000 to cover travel and expenses for the trip, as well as give future teams a head start on their own fundraising. Individuals wanting to help the NSAC team reach nationals can go to https://philanthropete.osugiving.com/project/3544.
Now in its 44th year, the NSAC gives students an opportunity to create a marketing campaign in response to a real-world case study. This year the AAF partnered with sponsor Ajinomoto Windsor, Inc. (AWI). Students conducted research and developed campaigns for AWI's Tai Pei Frozen Entrees and Appetizers.
OSU's team was advised by Nichols and Dr. Jami Fullerton, professor and Endowed Research Chair for the OSU School of Media and Strategic Communication. The students involved include:
Oklahoma
Ardmore
Maddy Oaks
Broken Arrow
Andrew Burnett
Edmond
Michelle MacLean
Elgin
Tiffany Gebhart
Guthrie
Mallory Fulks
Muskogee
Jeffrey Grey Denton
Norman
Rylie Carter
Oklahoma City
Brandon Havens
Texhoma
Ann E. Freeman
Tulsa
Britain Drennan
Sydnie Hill
Leanna Smith
Adriana Ware
Florida
Lakewood Ranch
Maddie Duffy
Illinois
Aurora
Tom Carlson
Kansas
Leawood
Paige Hess
Maryland
Towson
Kendall Treece
Minnesota
Cottonwood
Chelsey Johnson
Texas
Arlington
Sarah Rothschild
Canadian
Allie Collier
Flower Mound
Jessie Brandt
Richardson
K.J. Leu
Jessica Wedge
San Antonio
Alexis Gliedt
The Colony
Devon Post
PHOTO: https://flic.kr/s/aHskUbYzMu