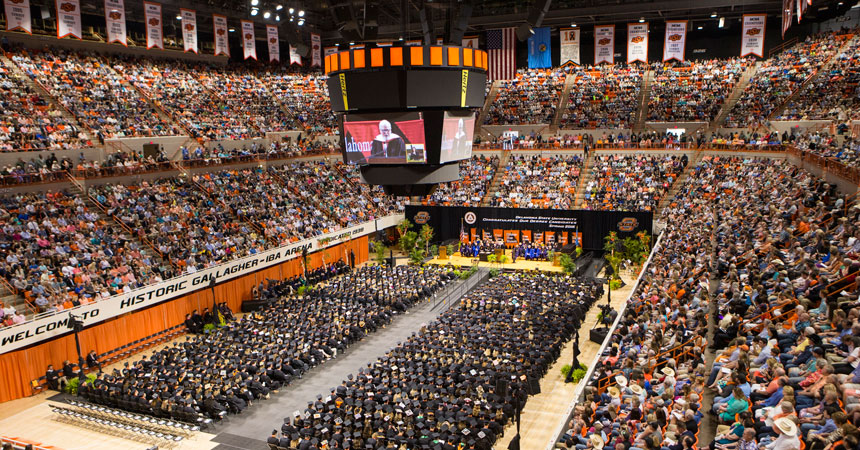 An estimated 3,600 Oklahoma State University students, in caps and gowns, will participate in one of the six commencement ceremonies set for Gallagher-Iba Arena next week. The graduation exercises will start with veterinary and graduate students on Friday, May 12, and conclude Saturday, May 13, with four separate ceremonies for undergraduate students, each featuring a different OSU alumnus as commencement speaker.
"We are honored that these successful alumni have agreed to share their insights with our students, and very happy to welcome family and friends to campus on this very special occasion in each student's life," said President Burns Hargis. "We look forward to celebrating our students' accomplishments and wishing them the best in all their future endeavors."
The OSU Center for Veterinary Health Sciences will recognize its graduates with a hooding ceremony at 1 p.m. Friday, May 12. Commencement for OSU graduate students will follow at 7 p.m.
Larry Bryce, president of Kohler Power Systems, which produces and markets generators and engines on a global basis, will speak at the 9 a.m. undergraduate ceremony on Saturday, which will recognize students from the College of Human Sciences, and College of Engineering, Architecture and Technology.
Dr. Bob L. Blackburn, executive director of the Oklahoma Historical Society, will speak at noon during the undergraduate ceremony for students from the College of Arts and Sciences. He has authored 21 books and serves as a constant source of historical information to the media.
Joseph Eastin, president and CEO of ISN, a global leader in contractor and supplier management systems, and one of the fastest growing privately-owned companies for the past ten years, will speak to students from the Spears School of Business during the 3 p.m.undergraduate ceremony.
Entrepreneur and innovator Piyush Patel, head of Digital Tutors, a leader in online training, will speak to undergraduate students in the College of Education, and the College of Agricultural Sciences and Natural Resources at the 6 p.m. ceremony on Saturday.
The Oklahoma State University Pipe Band will lead the Saturday processionals into Gallagher-Iba Arena. Candidates for graduation will be announced individually, photographed and presented an OSU Commencement print while crossing the stage
All ceremonies will be held in Gallagher-Iba Arena. Each will also be streamed live online at OState.tv. For more information about OSU's commencement ceremonies, go to http://commencement.okstate.edu/.