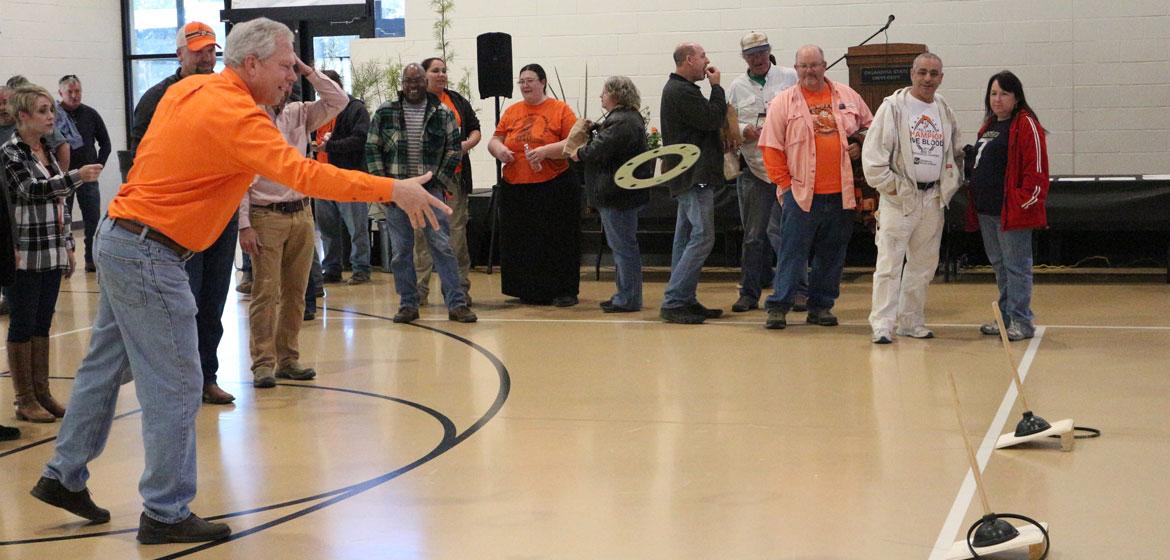 OSU Facilities Management promotes camaraderie at second Facilities Challenge
Friday, November 3, 2017
Oklahoma State University Facilities Management and OSU Long Range Facilities Planning met for the second annual Facilities Challenge at the Colvin Center Annex on Oct. 27.
This year's Facilities Challenge involved carnival-themed games representing different building's trades while incorporating safety and wellness. Concluding the event was a raffle including free massage certificates, dinner gift cards, potted trees, gift baskets and OSU merchandise.
"We were hoping to promote camaraderie and fun while relating the event to safety and work," said Ron Tarbutton, chief facilities officer at facilities management.
One of the games, Pallet Puzzle, applied proper lifting techniques to safely arrange forklift pallets with a partner. While being timed, two participants had to solve the puzzle of Pistol Pete's head.
Other games included a safety-gear relay, tossing a can into a recycling bin, golfing with a shovel and throwing a ring onto a plunger to represent different departments.
"Everyone seemed to enjoy this event whether they were participating in the games or catching up with one another," said Mike Buchert, director, long range facilities planning.
To add to the carnival environment, participants enjoyed popcorn along with cookies and fruit.
The names of all employees were entered in the raffle, regardless of whether they attended the event, except for event coordinators and upper management.
After raffle prizes were rewarded, the winners of each game were recognized.
Story by Michaela Gleason
PHOTOS: https://www.flickr.com/photos/ostatenews/albums/72157687911911271