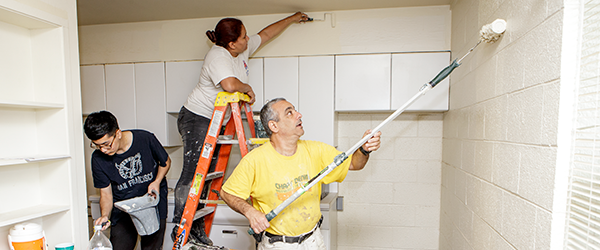 The Oklahoma State University Department of Facilities Management has earned the Association of Physical Plant Administrators' 2017 Effective and Innovative Practices Award for the university's Next Level Project: A Model for Effective Change. OSU was honored during the 2017 APPA Conference in San Francisco this month.
The Effective and Innovative Practices Award recognizes new programs or significant restructuring to existing programs that enhance service delivery, lower costs, increase productivity, improve customer service, generate revenue, or otherwise benefit the educational institution.
"It is very gratifying for our department to be recognized for this project that is focused on improving customer service, accountability and efficiency in the area of facilities management," said OSU Chief Facilities Officer Ron Tarbutton. "This project has been vital to the success of the department and the overall function of the campus."
The Next Level Project, which began in 2015, transitioned the facilities management team from being divided into traditional trades shops to a multi-trade zone system, or zone maintenance strategy. The OSU-Stillwater campus is divided into five zones and workers from all areas of facilities management are stationed within each zone which has allowed them to build relationship with their customers, be more familiar with the buildings; increasing ownership in their work and providing more efficient response time.
Submissions for the national award are judged using multiple criteria measuring benefits to the institution. In addition to innovation and effectiveness, judges focus on the project's ability to be adapted and implemented by other universities.
A map showing the OSU zones and the zone managers along with more information on the project can be found on the facilities management website http://fm.okstate.edu.