Dr. John Chaney, Oklahoma State University Regents Professor, is the recipient of the 2017 Award for Distinguished Contributions to Diversity in Pediatric Psychology from the American Psychological Association's (APA) Society of Pediatric Psychology.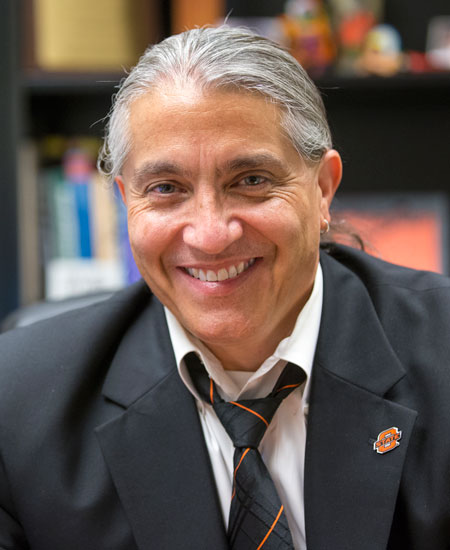 The award honors a pediatric psychologist who professionally promotes understanding and respect for diversity in research, policy or practice within a field of pediatric psychology.
"It is quite an honor to be recognized nationally for your investments in diversity-focused training and research over the course of your career, and I am grateful," Chaney said. "At the same time, I think it is equally important to acknowledge this individual award is the result of a team effort and a dedicated supporting cast."
Chaney said the APA award was made possible by the American Indians Into Psychology program he directs, which has helped 25 American Indian students receive their doctorates at OSU. The program, which will celebrate its 20th anniversary this fall, has become an integral part of the OSU Psychology Department, contributing to an inclusive environment that embraces cultural diversity.
"The program's success would not have been possible without the ongoing support of the OSU administration and the psychology department's faculty and staff," he said.
Dr. Larry Mullins, associate dean for research in the College of Arts and Sciences and Vaughn Vennerberg II Chair of Psychology at OSU, nominated Chaney for the award.
"Dr. Chaney has been a champion for diversity his entire career," Mullins said. "His research, teaching, leadership and advocacy, in the context of diversity, are exceptional and unparalleled by anyone I know in the field of pediatric psychology."
PHOTO: https://www.flickr.com/photos/ostatenews/albums/72157678067955691