OSU recognized as Certified Healthy Campus
Friday, March 31, 2017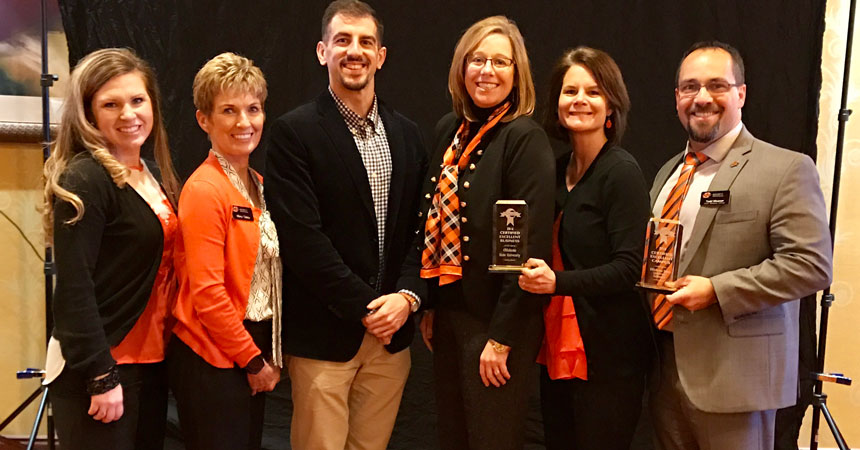 Oklahoma State University has been recognized as a Certified Healthy Campus for its outstanding efforts in health and wellness programming in 2016. It also earned recognition as a Certified Healthy Business.
Altogether, OSU was honored in three of seven categories during a recent annual luncheon hosted by the Certified Healthy Oklahoma Program.
Five campus dining facilities, including the Natural and Zest in North Dining, Country Barbeque and Which Wich in Kerr Drummond, and Bread and Beyond in the Student Union, were also recognized as Certified Healthy Restaurants.
"Certified Healthy Restaurant criteria is about creating a healthy environment for our customers and our staff," University Dining Services Dietitian Patty Anson said. "Throughout our operation, we place an emphasis on fresh foods and wellness to help our customers pursue a healthier lifestyle."
This is the sixth-year OSU has been recognized as a Certified Healthy Campus. Because it is 100 percent tobacco free, the university was recognized for the highest level of certification as a healthy campus and healthy business. Four of the five campus restaurants that were recognized also received the highest level of certification. The three levels include basic, merit and excellence.
"This is just more proof that what we are doing here at OSU matters and it is making an impact," said Mary Talley, assistant director for the Department of Wellness. "If we make an impact here, we can be sure that our students will go out into the world and spread it far beyond our campus."
Certified Healthy Oklahoma Program is a free, statewide certification effort that began in 2003. The program showcases organizations that are committed to improving the health of Oklahomans by implementing programs to improve their health. Representatives from the OSU Department of Wellness, University Dining Services and Human Resources attended the annual luncheon in Norman.
About 2,000 applicants were recognized as healthy businesses, campuses, communities, congregations, schools, early childhood programs, and restaurants this year.
By: Cassidy Williams
PHOTO: https://www.flickr.com/photos/ostatenews/albums/72157681952376626