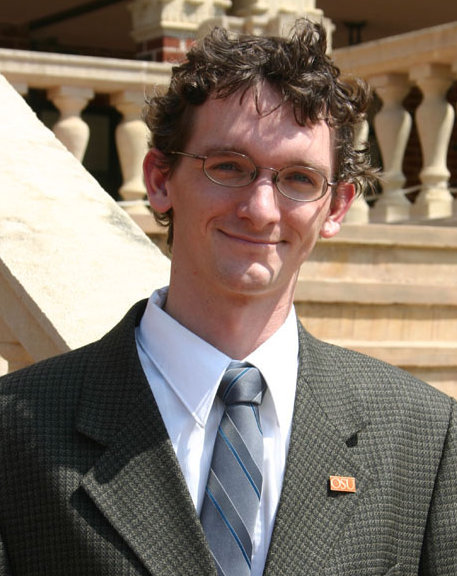 Oklahoma State University alumnus Joel Halcomb, who helped put his alma mater in the spotlight by winning the prestigious Gates Cambridge Scholarship, will talk about the experience and his work as a university professor in England on Wednesday, Sept. 13, at 4 p.m. in the Murray Hall Parlor.
His presentation, "From OSU History Major to University of East Anglia Lecturer," will be followed immediately by his initiation into the Phi Beta Kappa Honor Society at OSU. Both events are free and open to the public.
Halcomb enrolled in OSU at the age of 21 while working as an electrician. The nontraditional student was completing a double honors college major in history and mathematics in 2005, when he and a fellow student, Ashleigh Hildebrand, learned they had been selected as two of only 40 winners of the Gates Cambridge Scholarship in the U.S. The program, established by the Bill and Melinda Gates Foundation, funds a fulltime postgraduate degree at the University of Cambridge in England.
"Joel's story—starting as a somewhat older 'newcomer' to higher education, who went on to earn the coveted Gates Cambridge Scholarship—became one of the most exciting examples of personal achievement and land grant values and opportunities in OSU's history," said Dr. Bob Graalman, who was serving as scholar development director at the time.
Halcomb studied the early modern history of Great Britain at Cambridge, with an emphasis on religion. His doctoral work recreated Puritan religious practice and religious politics during Britain's mid-17th-century "Puritan Revolution." Since earning his doctorate, he has worked at the universities of St. Andrews, Cambridge, and now serves as a lecturer at East Anglia, in Norwich, England, where he teaches all aspects of early modern British history.
Ashleigh (Hildebrand) Ross went on to earn a master's degree in environmental policy from Cambridge, and a double masters in chemical engineering and technology policy at the Massachusetts Institute of Technology. She currently works as a senior reservoir engineer at ConocoPhillips.
Halcomb's research focuses on religious practice, culture and politics in Britain and Ireland during the British Civil Wars. He is a founding member of the Dissenting Experience project (dissent.hypotheses.org), which promotes scholarship on the history, literature and culture of early modern religious nonconformity in England.
Halcomb's presentation is sponsored by the OSU History Club and the Phi Beta Kappa Honor Society at OSU.